Current members of Lawrence High's girls basketball team never knew what it felt like to beat Free State until Monday.
The Lions shook off a sluggish first half and controlled the final six minutes of the game to claim a 52-42 nonleague victory over the Firebirds at LHS. Lawrence had lost six in a row to the cross-town Firebirds since beating them three years ago.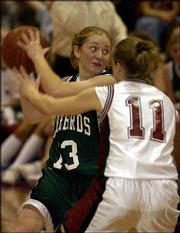 "It feels so good," said LHS senior forward Mandy Amyx, who scored 13 points and had eight rebounds. "It's been forever since we beat them. This is our court and we played with total heart."
Down by one with 6:05 left, LHS (7-11) went on a 12-4 run to take command with a 46-39 lead. Free State (6-12) couldn't pull closer than six points in the final two minutes while the Lions hit clutch free throws.
"It feels good to get the monkey off the back," said LHS coach Kristin Mallory, whose Lions outscored the Firebirds 42-27 in the second half. "I felt like I had one, so it's nice to get it off.
"We really acted like we knew what we were doing with the lead at the end of the game, even though we hadn't had it very often. The upperclassmen did a nice job."
Sophomore Rachael Klingler and Amyx had stickbacks during the decisive run in the fourth quarter.
Meanwhile, the Lions made 10 of 12 free throws in the fourth quarter and all seven in the final 2:49 to outscore the Firebirds 22-13 in the fourth period. LHS sophomore Josie Polk hit all six of her free throws in the final 1:29 and eight of eight free throws overall.
"Mandy did a great job getting rebounds and putting them back in," Mallory said. "She really stepped up. Rachael Klingler was awesome the second half and Josie hit some big free throws at the end."
Klingler finished with a game-high 14 points and snagged five rebounds. She also swatted two shots in the fourth quarter that drew aahs from the crowd.
Early in the contest, Klingler wore a facemask to protect the broken nose she suffered last week. She quickly shed the gear.
"I hate it," Klingler said of the mask. "I'm going to have surgery on Friday, so I thought I might as well play without it while I can."
The Lions trailed 15-10 at halftime after shooting a paltry 18.5 percent from the field (5-for-27) with 11 turnovers.
"Again we were creating good looks, but we weren't putting the ball in the hole," said Mallory, whose Lions regrouped in the second half to shoot 58.3 percent from the field (14-for-24). "Some point you have to step up, and when you're open you have to make the shot."
Klingler was among those players who stepped up.
"We said at halftime we weren't going to let this team beat us again because we knew we were better and we played better as a team," Klingler said.
Free State, which has lost four in a row, shot 33 percent from the field (6-for-18) in the first half and 36.8 percent overall (14-for-38).
"Both teams were perhaps a little tight in the first half," FSHS coach Craig Hershiser said. "The tempo was different in the second half and Lawrence High shot the ball a lot better."
LHS outrebounded FSHS 32-22 and capitalized on several offensive boards.
"We talked in pregame about keeping the ball out of the middle and that includes offensive rebounds," Hershiser said. "They got several points close to the basket and they made the free throws."
Free State was led by junior forward Jayme Lisher, who came off the bench to score 10 points. Lisher missed last week's game while recovering from a broken nose.
With the loss, Free State likely spoiled the Firebirds' chances of playing host to a boys and girls sub-state tournament next week. FSHS has dipped to an eighth seed and LHS is now seventh.
LHS will play host to Shawnee Mission North in the Lions' home finale on Wednesday. Tipoff is 7 p.m.
FSHS will play host to SM North in the Firebirds' home finale on Thursday. Tipoff is 7 p.m.
Copyright 2018 The Lawrence Journal-World. All rights reserved. This material may not be published, broadcast, rewritten or redistributed. We strive to uphold our values for every story published.