The Hague, Netherlands — Slobodan Milosevic ended a three-day tirade against "new colonialism" by the West, then heard the first prosecution witness in his war crimes trial testify later Monday about a Yugoslav scorched-earth plan to kill Kosovo Muslims.
Mahmut Bakali, an ethnic Albanian and former head of Kosovo's Communist Party, said he had heard of the plan for a Serb invasion of Kosovo the province of Serbia with a Muslim majority of ethnic Albanians from the Serbian head of security in 1997, David Gajic.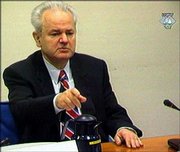 "It was the plan of Serbia, or a plan of Milosevic," he said, "This would be insanity on a large scale."
Bakali's testimony moved the trial into its second phase after the prosecutors and Milosevic spent a week laying out their cases in opening statements. The former Yugoslav president is on trial on 66 counts of war crimes during the 1991-99 Balkan wars, including genocide in Bosnia. He could be sentenced to life if convicted on any count.
During a 10-hour opening statement, Milosevic seized the offensive, blaming his enemies for the crimes of which he stands accused, and describing himself as a peacemaker.
He showed contempt toward the prosecution's portrait of him as a ruthless power seeker who orchestrated the murder and expulsions of non-Serbs to create a "greater Serbia" in the former Yugoslavia, now made up only of Serbia and much smaller Montenegro.
To gain a conviction, the prosecution must prove Milosevic either ordered atrocities against civilians, or that he knew about or had reason to know about crimes committed by his subordinates that he failed to prevent or punish.
Brutalities premeditated
With its first witness, the prosecution began to build its case that Serb brutalities were premeditated and well planned.
Bakali said the plan he heard from Gajic was intended "to destroy 700 Albanian-populated settlements and to destroy property and to destroy people."
He said he warned the security chief that the blitz would result in war.
Bakali was fired by the Yugoslav leadership in 1980 for allegedly organizing pro-independence protests by Kosovo Albanians. He disappeared from public view until 1998, when he became a member of a Kosovo Albanian delegation that negotiated the reopening of Albanian-language universities in Kosovo. He met several times with Milosevic that year.
Describing one of the meetings, Bakali said: "I told him: 'You are killing women and children,"' referring to a police action in the village of Prekaz that left more than 40 members of a family dead in early 1998.
Milosevic apparently replied: "We are fighting against terrorism." Milosevic said the police had given the residents two hours to flee but they didn't, according to Bakali.
"He knew about the incident," Bakali said.
Earlier, Milosevic ended his opening statement as he had begun it last Thursday, with a denunciation of the tribunal as "an instrument of lies" and rejecting its "false and inverted indictments."
Although he may cross-examine witnesses, it was the last opportunity Milosevic will have to say his peace until the prosecution winds up its case, probably in about a year.
Accusations against U.S.
Milosevic accused the West of manipulating ethnic hatred in the Yugoslav republics to break apart the country and place it under Western domination. He singled out Germany and the United States for allegedly supplying separatist groups with arms.
"War on the territory of Yugoslavia was incited by big Western powers," Milosevic said. "The goal of Western envoys was not to bring peace, but their interest was destroying the country and ensuring a new colonialism."
Copyright 2018 The Associated Press. All rights reserved. This material may not be published, broadcast, rewritten or redistributed. We strive to uphold our values for every story published.