On his 21st birthday, Tracy Russell didn't go to the bars to celebrate he had his first day on the job as a police officer in Great Bend.
Russell, a Lawrence police officer, always knew that he wanted to be a policeman. On Sunday, his dedication to law enforcement was honored when he received the Reverence for Law Award from the Mount Oread Aerie No. 309, Fraternal Order of Eagles.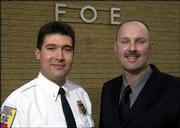 Lt. Jim Saladin, of Lawrence-Douglas County Fire & Medical, also received the Excellence in Fire Prevention and Medical Service Award at the annual banquet.
Russell's interest in law enforcement started when he was a child in Great Bend, where he did police ride-alongs with a neighbor who was a detective. At 18, he became a communications officer, working the midnight to 8 a.m. shift, followed by school in the morning at Barton County Community College in Great Bend. At 20, he began training to become a police officer.
"It's something that gets into your blood," Russell said, "and it's a real exciting job."
Russell joined the Lawrence Police Department in 1991. He now does critical accident investigation and is a field training officer. He said he was honored to receive the award, which was recommended by peers, supervisors and administrators.
"It's very humbling," he said. "We have 122 other officers that are equally deserving of this distinguished award."
The Lawrence Eagles Lodge began honoring police, fire and medical personnel in 1979, said Claud Aubry, past president of Aerie No. 309.
"The Eagles, for many years, have sponsored community service, and this is the first line of community service," he said. "It's a recognition for the guys in the departments to pick them as a recipient of the award."
Lt. Jim Saladin, who received the Excellence in Fire Prevention & Medical Services, became a firefighter in 1988 in Atchison and joined Lawrence-Douglas County Fire & Medical in 1991.
Saladin said he became a firefighter because he wanted a hands-on job.
"It looked like firefighting was right up my alley, and I've enjoyed it ever since," he said.
Since Saladin joined the department, the fire and medical departments have merged, and there has been a dramatic increase in the number of calls. When he started, the department had 1,600 to 1,700 calls a year. Now, with the addition of medical calls and an ever-growing city, the department answers about 9,000 calls a year, he said.
Saladin has taken all the changes in stride and also serves as an associate field instructor for Kansas University's division of Fire Science Training.
The Eagles also presented a $1,000 to the Visiting Nurses Assn. of Douglas County and honored the Eagles volunteer of the year at the banquet.
Delores Kilburn, a member of the Ladies Auxiliary, was chosen as the volunteer of the year.
Merlene McCormick, president of the Ladies Auxiliary, said the Eagles donated money to the visiting nurses every year.
"They help people at home and generally make it easier for people to get health care," she said.
Copyright 2018 The Lawrence Journal-World. All rights reserved. This material may not be published, broadcast, rewritten or redistributed. We strive to uphold our values for every story published.