New Orleans — Mardi Gras revelers who filled the streets of New Orleans' French Quarter added a patriotic twist to the debauchery Tuesday, mixing red, white and blue with the traditional purple, green and gold of Carnival.
On Bourbon Street, strings of beads including new red, white and blue necklaces rained down on young women who bared their breasts.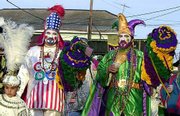 "I got the really good beads," bragged Joe Chin, 23, of Miami. "I know it's cold, but girls are still happy to show them for these babies."
National Guardsmen patrolled Mardi Gras for the first time, but police said the only direct response to the terrorism alert issued by the FBI on Monday was the posting of the suspected terrorists' photos at police stations.
"Why would terrorists want to break up such a good party?" said Tommy Mitchell, 31, of San Francisco, who wore only a grass skirt and American flag pasties despite the chill.
Elsewhere, a Statue of Liberty paraded down the street past a man in pink stockings, a skirt and a fake pregnant belly.
Temperatures in the 30s thinned the crowds that usually line the Fat Tuesday parade route. Some who did bear the cold pulled their costumes on over sweaters. Others had festive outfits hidden under winter coats festooned with beads and boas.
Although tossing beads and trinkets from the balconies is illegal, police ignore the practice during Carnival. Exposing breasts is also illegal, but arrests are rare.
Jazz clarinetist Pete Fountain dressed as a sheriff and his 150-member Half-Fast Walking Club wore gold cowboy costumes with American flag patches on the sleeves.
"It's the time to be patriotic," said Fountain, marching in his 41st Mardi Gras. "If you don't love this country now, get the hell out of it."
l Liberal, Kan., bests Olney, England, in annual Shrove Tuesday pancake race. Page 1B
Copyright 2018 The Associated Press. All rights reserved. This material may not be published, broadcast, rewritten or redistributed. We strive to uphold our values for every story published.