The grounds of a historic Lawrence home may become the newest site for area newlyweds to celebrate their historic day.
Terry and Elaine Riordan, owners of the Ludington-Thacher residence, 1613 Tenn., are making plans to use the grounds of their 133-year-old home to welcome weddings and other receptions during the summer months.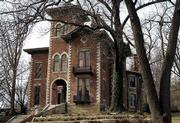 "We think it will be a beautiful place to have a reception and maybe have a memorable moment," said Terry Riordan, whose application for a permit is working its way through City Hall. "Plus, we think it might be a nice way to share the home with the community."
But the couple won't be opening up the house itself for receptions, Riordan said. All activities will be contained within the yard surrounding the home, where outdoor improvements will include an all-weather tent and a dance floor to accommodate live music.
Plans call for the site to be available for rental when Kansas University classes are out for the summer. The area could handle three or four events a year, with each event limited to 250 people.
Riordan said he expected the idea to be well received by the event-oriented public, in large part because the Italianate mansion on the National Register of Historic Places would offer a rare backdrop for any event.
"I don't think there is another setting like it in Lawrence," Riordan said. "It will create some wonderful photo opportunities, and it is large enough that you can host a good size event but small enough that you don't feel dwarfed in it.
"Plus, the fact we'll only allow three or four events a year, will give some exclusivity to it. We think it will be a chance for a couple to do something really special."
Rental fees, which haven't been set yet, also will go to a good cause, Riordan said: the house itself.
"One of the reasons we wanted to do this is because we're interested in trying to create some cash flow to help maintain the outside of the house," said Riordan, a Lawrence pediatrician. "It's an expensive house to maintain and it takes a lot of care.
"Basically we're just trying to create a revenue-neutral business. We're not trying to make any money for ourselves. We're just trying to make some money for the house."
Although at least one neighboring property owner has expressed concerns about the potential for trash, noise and parking problems, Riordan said he and his wife weren't trying to make waves for the neighborhood.
The business, which won't play music or allow alcohol to be served past midnight, should fit in well with the largely student-oriented neighborhood, he said. The residence is located between a KU fraternity and an apartment complex.
"I think it will fit in well because during the summer there aren't that many students around," Riordan said.
The business will address parking concerns by securing an agreement for event guests to park next door at the Sigma Phi Epsilon house, 1645 Tenn.
"We are good friends with lots of our neighbors," Riordan said. "If it causes problems, we'll shut it down ourselves. But we just don't think it is going to be a problem for anyone."
Copyright 2018 The Lawrence Journal-World. All rights reserved. This material may not be published, broadcast, rewritten or redistributed. We strive to uphold our values for every story published.