Salt Lake City — The Americans swept. Georg Hackl settled.
The U.S. snowboarders the kiddie corps suddenly creating the big Winter Olympics buzz scored an across-the-board sweep Monday, flying to gold, silver and bronze in the halfpipe before a wildly enthusiastic Utah crowd of 30,000.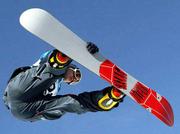 In the luge, the 35-year-old Hackl who prefers Heineken to the halfpipe piloted his sled to a silver medal, breaking his decade of dominance in the Winter Games event.
In Park City, Ross Powers proved the gnarliest of the U.S. snowboarders, easily soaring to the gold. He stood on the medals platform, his snowboard raised high over his head, before inviting his teammates silver medalist Danny Kass and bronze medal winner JJ Thomas to join him.
"I couldn't ask for anything more," Powers said one day after his 23rd birthday. "It's the best birthday present ever. These guys beside me is also huge. Today was just the perfect day."
It was the first U.S. sweep of medals in a Winter Olympics' event since men's figure skating in 1956. And it came one day after Kelly Clark won America's first gold medal here in the women's halfpipe.
The chants of "U.S.A., U.S.A, U.S.A," were deafening as the Americans flew 10 and 15 feet above the hollowed-out snow chute. The U.S. team took four of the top six spots, with Tommy Czeschin finishing sixth despite a run that many in the crowd deemed medal-worthy.
Powers, the oldest of the three medal winners, had taken a bronze in Nagano. Thomas is just 20, and Kass is 19.
The Americans now have six medals four from the snowboarding "Gen X" contingent as the squad seeks to better its Winter Games high of 13 medals.
The U.S. team sits atop the medal board with Austria and Germany.
l Luge: It looked a little strange: Georg Hackl standing in the spot reserved for the silver medalist.
After three straight Olympic gold medals, the German luger's unprecedented run success ended Monday when he settled for a silver medal finishing behind gold medalist Armin Zoeggeler of Italy.
Hackl did not appear upset by his near-miss at winning an unprecedented fourth straight gold in the same Winter Olympics event. He still won a medal in a record-setting fifth games, he applauded Zoeggler's winning effort, and his temporary Utah home has a refrigerator full of his beloved German beer.
"I'm getting a silver, and that's great," Hackl said. "Now, two silver medals will frame three gold medals."
Markus Prock of Austria, a 10-time World Cup champion, won the bronze. America's 38-year luge dry spell continued as Adam Heidt finished fourth, the best singles finish in U.S. team history.
l Downhill: After waiting four years for a shot at a third Olympic medal, U.S. skier Picabo Street had to wait another day.
Whipping winds at the top of the Wildflower course, 9,016 feet up Mount Ogden, led Olympic organizers to postpone the women's downhill, now expected to take place on Tuesday.
Street hopes to become the first American woman to win three Olympic skiing medals. She captured a downhill silver in '94 and a super-G gold in '98.
l Speedskating: It wasn't the snowboard sweep, but American speedskaters took three of the top seven spots in the 500 meters qualifying. Casey FitzRandolph, who struggled four years ago, set an Olympic record as the fastest qualifier
American Kip Carpenter was a surprising third, while U.S. record holder Joey Cheek was seventh at 34.78. The finals were set for Tuesday.
Defending gold medalist Hiroyasu Shimizu of Japan had the second fastest time. And Nagano silver medalist Jeremy Wotherspoon of Canada tumbled to the ice shortly after starting, knocking himself out of the competition.
l Biathlon: Andrea Henkel, a 24-year-old German, won her first Olympic medal with a gold in the women's 15-kilometer biathlon. The silver went to Liv Grete Poiree of Norway, while Magdalena Forsberg of Sweden the most successful female biathlete in history won her first Olympic medal with a bronze.
In the men's 20-kilometer race, Ole Einar Bjoerndalen of Norway won the gold medal. Frank Luck of Germany won the silver and Victor Maigourov of Russia won the bronze.
l Curling: America's curling team, which finished fourth in Nagano, opened its Salt Lake City bid by upsetting the defending world champion, Sweden. The 10-5 victory came after team skipper Tim Somerville hit a tremendous shot late in the game.
In other first round play in the 10-team tournament, Finland defeated Denmark, 9-3, Germany topped France, 9-5 and Canada, the 2000 world champion, edged Britain 6-4.
In the women's curling, play opened with four games: Canada beat Sweden, 5-4; Britain topped Norway, 10-6; Germany defeated Russia, 8-5; and Switzerland beat Denmark, 9-8.
l Men's hockey: Ukraine, led by Valentyn Oletsky's two goals, kept alive its chances of moving past the preliminary round with a 5-2 victory over Switzerland. The loss likely means elimination for the Swiss.
l Women's hockey: Canada, the defending silver medalist, opened the Olympic women's hockey tournament with a 7-0 victory over Kazakstan. Natalya Trunova made 59 saves for Kazakstan in the losing effort.
Russia, a 3-2 loser in its first game Monday against Sweden, must now defeat or tie the Canadians to advance to the medal round. Sweden outshot the Russians 44-14.
Copyright 2018 The Associated Press. All rights reserved. This material may not be published, broadcast, rewritten or redistributed. We strive to uphold our values for every story published.