Shawnee Mission East's offense in the fourth quarter was as effective as a mime employed as a motivational speaker.
Meanwhile, Free State's pressure defense spoke volumes as the Firebirds capitalized on five consecutive Lancer turnovers to open the fourth period and take control for a 58-47 Sunflower League boys basketball victory on Friday at the FSHS gym.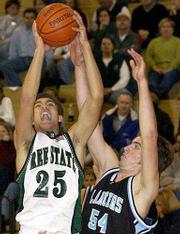 Tied at 40-all after three quarters, the trapping Firebirds (6-9 overall, 2-4 league) forced nine turnovers, including eight steals, in the first five minutes of the fourth period to fuel a game-breaking 11-2 run against the Lancers (3-11, 0-5).
SM East didn't get off a shot the first three minutes of the fourth quarter and never pulled closer than five points following the Firebirds' decisive run.
"I thought for five minutes of the fourth quarter we played like the team we thought we were going to be all year long," said Firebird coach Jack Schreiner, whose squad has won three in a row. "The last three minutes was the team we saw in January. Instead of making the easy, good play we tried to make the tough play and we got into trouble."
Early in the fourth quarter, FSHS senior guard Andron Cruse had a steal that led to a two-on-one break and easy layin by teammate Dain Dillingham.
"We wanted to pick it up defensively," said Cruse, who finished with 10 points. "At the beginning of the game we weren't playing very good defense. Coach really emphasized defense and we picked it up in the fourth quarter."
Free State junior center Keith Wooden, who had three steals in the final quarter, capped the 11-2 run with a steal and dunk.
"We told coach that we could stop them and didn't think they could handle the pressure," said Wooden, who finished with 10 points, eight rebounds and four blocked shots.
The 6-foot-9 Wooden was hounded by SM East's box-and-one defense.
"He's going to see that kind of defense the rest of the year," Schreiner said. "He just has to stay focused and still realize we can still win even if he doesn't score 20 points."
Dain Dillingham, Free State's sixth man, picked up the scoring load, finishing with a season-high 18 points.
"I give all the credit to my teammates for getting me open," said Dillingham, who scored seven points in the fourth quarter. "I didn't have to do anything. I happened to be in the right spot at the right time."
Dillingham said the Firebirds are used to gimmick defenses applied to Wooden, their go-to player.
"I know it's hard on Keith," Dillingham said. "We appreciate him handling that pressure and having a person in his face the whole game. It gives the rest of us a chance to get into the game and that's important."
At 15.5 points per game, Wooden is the lone Firebird averaging in double figures.
"It's hard because I'm used to scoring," Wooden said of box-and-one defenses. "It's hard to patient, but it's something I have to do if I want to be successful."
FSHS junior Neil Dougherty, who had two fourth-quarter steals, scored 12 points to join Dillingham, Cruse and Wooden in double figures.
Free State has won four of its past six games after opening the season 2-7.
"The first part of the season was rough and we hit a little slump," Dillingham said. "We've been going hard lately, the games have been better and hopefully the crowds will be bigger."
Free State is on its longest winning streak since last February, when the Firebirds beat SM North, SM West and SM South.
"We would really like to win another three in a row and be 9-9 on that Tuesday night (Feb. 19) we play Lawrence High," Schreiner said.
Following the victory, Wooden addressed rumors that this season might be his last at Free State. Wooden is regarded as a major-college prospect.
"My family might be moving, but I'm not sure," said Wooden, who said he might go out of state or to Olathe. "It's up in the air."
If Wooden does move to Olathe, he said he'd attend either Olathe East or Olathe South.
Next for FSHS is a home game Monday against Shawnee Mission South. Tipoff is 7 p.m. in the Firebirds' gym.
Copyright 2018 The Lawrence Journal-World. All rights reserved. This material may not be published, broadcast, rewritten or redistributed. We strive to uphold our values for every story published.