Actor Danny Glover felt a special connection Thursday to a new postage stamp honoring the late writer Langston Hughes.
Glover, a fan of Hughes' poetry since childhood, was raised by parents who worked more than 35 years for the U.S. Postal Service.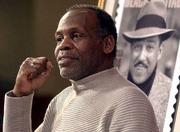 "All our lives are interconnected in some way," Glover told students at Central Junior High School.
Glover appeared at the school before his performance of "An Evening with Langston" Thursday night at the Lied Center.
A capacity crowd nearly 2,000 people packed the center to hear Glover read work written by Hughes.
Glover's appearance was sponsored by Kansas University Student Senate, which dedicated the event to the memory of Shyra McGee, a KU student killed last year when the car she was riding in was struck by a drunken driver.
The program was part of an international symposium that began Thursday night and celebrates the art, life and legacy of Hughes, who spent his early childhood in Lawrence. Hughes attended local public schools, including Central, when it was on Kentucky Street.
"Langston Hughes is one of my favorite poets," Glover told students at Central. He urged students to become regular poetry readers. "We should get them all to read more."
Glover said the Harlem Renaissance writer was well regarded on the 100th anniversary of his birth because he delivered such a powerful message about the joys and sorrows of black life. Hughes' insight into America as it was and America as it could be is important to people of all races.
"He had an enormous sense of where he was," Glover said. "At the same time, he created this unusual voice for all America."
| | | |
| --- | --- | --- |
| | | |
| | Danny Glover speaks at the symposium: | |
| | | |
Glover read several of Hughes' poems but recited others from memory during the assembly at Central.
Glover, a TV, film and stage actor possibly best known to general audiences as the older partner of Mel Gibson in the "Lethal Weapon" movies, said Hughes' writing tested the willingness of people to be open to diverse perspectives. It's a test some people struggle with today, he said.
"How do we value each voice?" he said.
Glover said he had felt subtle racism in San Francisco as a youth when educators tried to usher him into classes that wouldn't prepare him for college. He experienced a more sinister racism signs that said "Whites Only" while visiting his grandparents' farm in Georgia.
"I saw the kind of institutional discrimination that had long been part of the South," he said.
In an interview, Glover said it was impossible to be "pleased" about growing appreciation in education circles about the contributions of black Americans because, he said, a door opened could always be closed again.
Developing nations in Africa and other areas of the world need something like the Marshall Plan to counter economic, political and health problems, he said. The Marshall Plan outlined assistance to Europe in recovering from World War II.
Copyright 2018 The Lawrence Journal-World. All rights reserved. This material may not be published, broadcast, rewritten or redistributed. We strive to uphold our values for every story published.