The Sept. 11 terrorists attacks have slowed but not shut down efforts to attract a new hotel to the downtown area, partners in the redevelopment of the 900 block of New Hampshire Street said.
Martin Moore, a partner in the Downtown 2000 project, said investors would wait until the second half of the year to decide whether to build a hotel at the southwest corner of Ninth and New Hampshire streets.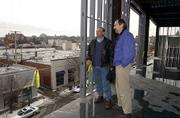 But the prospects are better than they were a few months ago, he said.
"Travel has been way off, but for a market like Lawrence we think it might not be as impacted as some others because our travelers generally don't fly in here," Moore said. "So we have started to see the hotel part of the project loosen up again."
It may be one of several signs the downtown real estate market is beginning to bounce back from a slowing economy.
Several other downtown developers say they are beginning to field calls again about retail and office developments.
Bob Schumm, owner of Buffalo Bob's Smokehouse and Mass. Street Deli, said he hadn't found a tenant yet for his new 8,700-square-foot building directly north of his barbecue restaurant on Massachusetts Street, but he's confident he will.
"The interest is there because downtown is still considered the boutique, upper-end shopping district in Lawrence," Schumm said. "The discounters have aligned themselves in the south end of town, but the higher-quality shops are still locating downtown and we believe this development will continue that trend."
Dale Miller said his development group also was continuing with plans to build a four-story, 28,000-square-foot building in a former pocket park south of the Eldridge Hotel, 701 Mass.
Miller said construction would not begin until he'd signed a retail tenant for the building's 7,500-square-foot ground floor. The lot currently is being used for valet parking at the hotel.
The Downtown 2000 group, though, has the most space to fill. Construction has started on a four-story building at 10th and New Hampshire streets that will include retail on the ground floor, the city's human resources and parks and recreation offices on the second floor, and loft-style apartments on the top two floors.
Moore said the group still was committed to building more than 50,000 square feet of office and retail space on the east side of New Hampshire Street north of the new Lawrence Arts Center but that likely won't happen for at least another 18 months.
Moore has notic-ed increased interest in the project.
"Phone calls on the loft space, for example, have been going crazy recently," Moore said. "You can get up there and see the views that they're going to have and people are starting to get excited about the concept of living downtown."
The project is expected to have 20 loft-style apartments, ranging from 550 square feet to 850 square feet and renting for $600 to $950 a month.
Jeff Shmalberg, another partner in the development, said the project seemed to be getting closer to landing its first retail tenant.
"Everybody is still a bit tentative but we're moving in the right direction again," Shmalberg said.
Copyright 2018 The Lawrence Journal-World. All rights reserved. This material may not be published, broadcast, rewritten or redistributed. We strive to uphold our values for every story published.