Karachi, Pakistan — Authorities know the identity of reporter Daniel Pearl's kidnappers and are "very close to resolving the case," a top police official said Tuesday. Sources said three men had been arrested for sending last week's e-mails that contained photographs of Pearl.
Mukhtar Ahmed Sheikh, in charge of police here in Sindh province, refused to say who was behind the kidnapping. Pearl, 38, was last seen Jan. 23 on his way to meet a Muslim fundamentalist contact at a Karachi restaurant.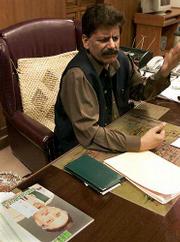 Sheikh said he believed Pearl was still alive.
A U.S. State Department official said Tuesday that Pakistani police are looking for Sheik Omar Saeed in connection with the kidnapping. Saeed was one of three men freed by India on Dec. 31, 1999, to end a hijacking of an Indian Airlines flight to Kandahar, Afghanistan. Authorities said the hijackers were acting in support of militants in Kashmir Indian territory disputed by Pakistan.
The Washington official, speaking on condition of anonymity, said that Pearl was supposed to be meeting with Saeed at the time of his kidnapping.
Pakistani police said three members of Saeed's family had been detained.
"The fact is we know who has done it," Sheikh told The Associated Press. He said officials are drawing nearer to resolving the kidnapping.
"There are questions which, if I answer, could affect the case." he added. "But it is enough to say that we might conclude the whole thing very soon, sooner than you think."
In the capital, Islamabad, U.S. Deputy Treasury Secretary Kenneth Dam told reporters Pakistan was conducting a "vigorous" investigation into the kidnapping, which threatens to cloud President Pervez Musharraf's visit to Washington next week.
Sheikh said Pakistani investigators, aided by the FBI, have been working around the clock to break the case. He said the kidnapping had "compromised our entire efforts" to attract international investors and clean up Pakistan's image as a dangerous country.
Pearl, the Journal's South Asian correspondent, had been seeking an interview with a Muslim cleric, Sheik Mubarak Ali Shah Gilani. Gilani has been arrested but claims no knowledge of the kidnapping.
Copyright 2018 The Associated Press. All rights reserved. This material may not be published, broadcast, rewritten or redistributed. We strive to uphold our values for every story published.