As many as 35 Kansas University students, faculty and staff members were exposed last week to bacterial meningitis, a potentially deadly or debilitating ailment.
Steven White, associate professor of education, was diagnosed with the illness Monday night. KU officials on Tuesday were notifying those who had been exposed.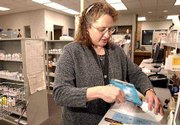 By Tuesday afternoon, most of those students in White's class had been given preventive antibiotics, said Dr. Myra Strother, chief of staff at Watkins Student Health Center.
Although bacterial meningitis an infection of the lining that covers the brain and spinal cord can be deadly, White is expected to make a full recovery, Strother said.
"If you were not in this gentleman's classroom or had close contact with him, you can be totally calm," Strother said. "There's no way of just being in the corridor or the hallway or having your roommate in the class or even your boyfriend and get meningitis."
Strother and Angela Lumpkin, dean of the School of Education, met Tuesday with about 25 students in one of White's classes that met Jan. 29. Most of the students took doses of the antibiotic rifampin, Strother said.
Because KU had two snow days last week, White's other two classes which have a combined 50 students didn't meet. He also didn't meet with a group of student teachers who could have exposed elementary school students.
People who go 10 days without showing symptoms are safe from the disease.
"It's the best thing to come out of the ice storm," Strother said. "It sort of isolated (the other students)."
Lumpkin said she was contacting each of those students by telephone.
"We want the students to hear from us," Lumpkin said. "We don't want them to get the impression they're in danger. The students who have the risk are the students we've met with today."
Lumpkin said fewer than 10 faculty and staff members had contact with White during the last 10 days. Health officials in Kansas City, Mo., where White lives, will contact others he may have exposed.
Many people carry the germ that causes bacterial meningitis in their noses and throats without sign of illness, then get ill only when they become tired. Strother said White had been suffering from a cold for two weeks.
"That could've worn him down," she said.
Bacterial meningitis is an infection of the meninges, the thin lining that covers the brain and spinal cord.
Between 10 percent and 25 percent of people carry the germ that causes meningitis, but the bacteria rarely overcome the body's immune system.
The Meningitis Foundation of America says about 13,000 cases of the illness occur annually in the United States. Meningitis is fatal in about one in 10 cases, but one in seven survivors is left with a severe handicap, such as deafness or brain injury.
The bacteria typically are spread by close contact such as kissing, sneezing, coughing or sharing a drink.
Symptoms, including fever, headache, vomiting and a rash, usually appear within five days.
Officials at Kansas University's Watkins Student Health Center recommend freshmen, especially those in residence halls, be vaccinated for bacterial meningitis. The cost is $68 for KU students.
The Douglas County Health Department also offers the vaccine for residents traveling to countries where meningitis is a risk.
White became ill Saturday and was admitted Monday to Baptist Medical Center in Kansas City, Mo. Because the illness was detected in its early stages, he was expected to make a full recovery, Strother said.
Barbara Schnitker, director of nursing for the Douglas County Health Department, said the last case of bacterial meningitis in the county was in September 2000, when a 4-year-old boy died of the disease. Three KU students have died of the disease in the past 10 years.
"Fortunately, it is rare," Schnitker said.
Copyright 2017 The Lawrence Journal-World. All rights reserved. This material may not be published, broadcast, rewritten or redistributed. We strive to uphold our values for every story published.