Topeka — Republicans abandoned an effort to cut $54 million from the current state budget after failing to find enough support Tuesday in the Senate.
The proposal for an immediate 1.2 percent reduction in the $4.5 billion budget won't be revived, Senate President Dave Kerr said after calling off a debate that was set for Tuesday afternoon.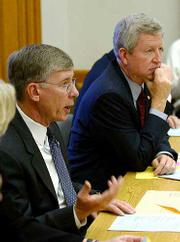 Kerr, R-Hutchinson, predicted the Senate would vote to raise taxes on alcohol and tobacco and allow the state to use so-called rainy day funds to help bring revenue in line with spending. But significant reductions still would be needed, he said.
Gov. Bill Graves, who supports increasing taxes, concurred that budget cuts were likely whether the state raised new revenues. He wouldn't respond to GOP leaders' decision Tuesday and said only that legislators have much to do.
"We just need to give them time to do their work," he told reporters.
Graves, some Senate Republicans and all 10 Senate Democrats opposed the measure to cut spending in the remaining months of the 2002 fiscal year, which ends June 30. That meant at least 21 of the Senate's 30 Republican members would have had to support the bill.
Kerr took a count during and after a Tuesday morning meeting of Senate Republicans. He said later a vote would have been close, although he declined to say how close.
The bill would have spared public schools, but it would have reduced funding for higher education and social services.
Many critics were concerned about a $2.9 million cut for the Department on Aging. Secretary Connie Hubbell has said the money would come out of meals programs and in-home services for the elderly.
"There wasn't much wiggle room in this budget to begin with," said Sen. Sandy Praeger, R-Lawrence, who opposed the bill. "To make cuts now would have a devastating effect."
Praeger said the cuts would have affected home and community services for the disabled and elderly, which would have resulted in more people going into more expensive nursing home care.
"We are just sometimes penny wise and pound foolish," she said.
Kerr and other supporters said any cuts in the current budget could have been carried over into the state's 2003 fiscal year, which begins July 1, making it easier to balance the 2003 budget.
The state is trying to close a projected $426 million gap between expected revenues and spending commitments for fiscal 2003. Legislative leaders expect the picture to get worse in March, when state officials and university economists revise revenue estimates.
"The deficits are going to be so big in '03, the cuts are going to be so deep or the tax increases so high that I don't see how we're going to come to a consensus," said Sen. Robert Tyson, R-Parker, who supported the bill. "We didn't have the discipline, so we'll pay later."
Though pleased with Tuesday's developments, Democrats criticized GOP leaders for the process they used to make a decision on whether to go forward with the bill.
"These issues need to be dealt with an open meeting and an open vote and not behind closed doors," said Minority Leader Anthony Hensley, D-Topeka. "I think it's extraordinary they would have a secret ballot."
The House had been waiting on the Senate, with some representatives predicting the bill had a good chance of passing. But GOP leaders are not planning to push the issue.
"It really would be a waste of time to take a vote on it," said Speaker Kent Glasscock, R-Manhattan.
Copyright 2018 The Associated Press. All rights reserved. This material may not be published, broadcast, rewritten or redistributed. We strive to uphold our values for every story published.