Last week's ice storm cost governments in Douglas and Franklin counties at least $600,000, officials said Monday, and that number doesn't include private property damages or overtime paid to emergency officials.
But Gov. Bill Graves on Monday requested federal disaster assistance only for the governments of Johnson and Wyandotte counties. Government losses in those counties ran into the tens of millions of dollars.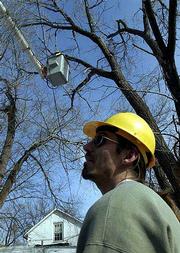 "It is possibly a temporary thing," said Don Brown, the governor's spokesman. "The assessments are still being done and the results are still being tallied."
Paula Phillips, director of Douglas County Emergency Management, said Douglas County could be added to the list later.
"The state gets pressure to get the process started, and this is how the process starts," she said.
Elsewhere across Kansas, thousands of families returned to their homes after electricity was restored, but for thousands more it may still be days before power is back on.
The Adjutant General's Office said about 57,250 Kansas homes still were without power at the latest official count Monday afternoon.
Still dark, cold
Most customers should have power on by midweek, but some of the hardest-hit places particularly Olathe, Emporia and Arkansas City may not get electric service until the end of the week, said Kent Myers, spokesman for Westar Energy, the state's largest electric provider.
More than 70,000 Kansas City-area customers remained without electricity Monday, nearly 13,000 of whom are customers of Westar Energy.
Also Monday, Graves asked that residents of Douglas County and 14 other northeast Kansas counties be eligible for individual assistance to pay for private property damages not covered by insurance. Franklin, Johnson and Wyandotte counties were among the 15 counties in the request Graves sent to President Bush. Another 20 counties would be eligible for lesser federal aid under the request.
Local and state officials said they didn't expect to have an estimate of the private property damages.
"We generally don't get a report unless there's $20 million to $30 million in damage," said Nicole Corcoran-Basso of the state insurance office. "We're not expecting that."
Lawrence-area insurance agents said they have received few claims.
"It's been pretty minimal," said Lance Wollesen, a Shelter Insurance agent in Lawrence. "I've been pleasantly surprised with the number of claims we've had. I'm one of the smaller agencies, but we've only had four claims out of our whole book."
Area governments
Representatives of the Federal Emergency Management Agency were canvassing northeast Kansas on Monday to assess local governments' costs from the storm.
"The damage we're looking at is primarily to public property," said Joe Klocek, a FEMA spokesman in Kansas City, Mo.
Phillips said the $300,000 damage estimate for Douglas County governments was "a very preliminary number." It included the costs of operating a shelter at the Lawrence Community Building and debris pickup, as well as drainage of the sprinkler system so pipes wouldn't burst at the East Lawrence Center, 1245 E. 15th St., after power went out there.
In Franklin County, Sheriff Craig Davis said the city of Ottawa alone suffered $300,000 in losses; his office still was trying to get numbers for the rest of the county Monday afternoon.
It might have been worse. Phillips said Douglas County avoided the brunt of the storm absorbed by Kansas City and that Lawrence may have benefited from being a younger city and not having as many old trees that had grown big enough to destroy power lines.
"A lot of problems we had were on the east side of town, the older part of town," Phillips said. "That's where the older trees were."
Copyright 2018 The Lawrence Journal-World. All rights reserved. This material may not be published, broadcast, rewritten or redistributed. We strive to uphold our values for every story published.