Farmers and businesses with unpaid bills or bounced checks from the bankrupt Farmers Cooperative Assn. should be paid in full by the end of March, officials said Thursday.
And there may be more money on the way.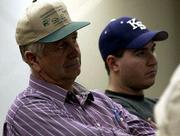 About 50 people attending Thursday's annual meeting of the Lawrence-based cooperative were told that co-op members overwhelmingly had approved the co-op's bankruptcy reorganization plan, which received approval Wednesday from a federal bankruptcy judge.
They also learned that Morrison & Hecker, an Overland Park law firm, is considering filing a lawsuit against CoBank, the lender that pulled the co-op's line of credit and pushed the Chapter 11 bankruptcy filing in September 2000.
By March 29, more than 2,000 checks worth more than $9.1 million will be sent to farmers, businesses and others owed money by the co-op, said John Cruciani, a co-op attorney. The checks will cover the full amounts owed, plus a one-time interest payment of 1.25 percent.
"A bankruptcy is never a good situation, but we think this plan makes the best of a bad situation," he said.
Many area farmers appeared satisfied that the repayment plan was the best option they had. Co-op members approved the plan by a vote of 1,468 to 20.
| | | |
| --- | --- | --- |
| | | |
| | During what was the last annual meeting for the Farmers Cooperative Assn., five new trustees were appointed Thursday to handle business matters in the wake of the co-op's bankruptcy.The new trustees are Pat Ross, Lawrence; Mike Amerine, Lawrence; Byron Finley, Edgerton; David Page, Rushville, Mo.; and Joe Turner, Overbrook. | |
| | | |
"I thought we would get our money back, but I thought it would take longer than this," said Ervin Donaldson, who farms in western Douglas County.
The settlement checks will not include patronage payments the payments owed co-op members for doing business with the co-op for many years.
The co-op has about $10.2 million in stock in other regional cooperatives, but a timeline for how quickly it can be turned into cash to pay off co-op members remains uncertain. Cruciani said he has been told it could take between five and 15 years.
But it could be quicker if Morrison & Hecker chooses to represent co-op members in a lawsuit claiming that CoBank improperly pulled the co-op's line of credit, creating an unnecessary need to file bankruptcy. CoBank has denied any wrongdoing.
Patricia Hamilton, an attorney with Morrison & Hecker, said the firm should decide by March whether to accept the case on a contingency basis.
Copyright 2018 The Lawrence Journal-World. All rights reserved. This material may not be published, broadcast, rewritten or redistributed. We strive to uphold our values for every story published.