New York — The idea of cloning a person brings up fantastic notions, not all of them scary.
Imagine a team of Michael Jordan clones on the basketball court, or a clone of Mozart taking up where the original genius left off, just some of the ideas that could spring up following Friday's still-unproven claim of the birth of the first human clone.
But if you want a reality check, look into the Hutchinson, Kan., home of Holly and Noel Adcock.
They're 10-year-old identical twins. So, just like a clone and its progenitor, they have identical genes.
They do look alike; even teachers mix them up. But Noel is about five pounds lighter than Holly. Noel has pierced ears; Holly isn't interested.
Noel is the more mechanically minded and "definitely more of a go-getter," says their mother, Mary. Holly is "more laid-back, she's more the peacemaker."
Identical twins are strikingly similar in many ways, but Noel, Holly and a bundle of research shows that even they aren't completely alike. And scientists who study how genes shape us say that's an important lesson for trying to predict how much a human clone will resemble its progenitor.
The bottom line: Don't expect a replica.
If the claim made last week by Clonaid is proven, baby "Eve" -- as the company calls her -- will not be a carbon copy of her mother, the woman from whom she allegedly was cloned.
For all their differences, "identical twins are more identical than clones will ever be," says Robert Plomin of the Institute of Psychiatry in London.
As a group, identical twins are in fact more similar to each other in personality than ordinary siblings or fraternal twins, who develop from two separate eggs. That's true even when the identical twins are reared apart, says Nancy L. Segal, director of the Twin Studies Center at California State University, Fullerton.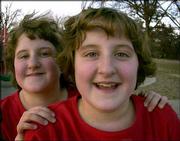 So that shows a clear influence of genes, she says.
But even identical twins are influenced by nongenetic factors -- starting with the womb and extending to parents, friends, opportunities in life, chance occurrences -- that influence who we are.
Since a clone and its progenitor would be born into different families at different times, these nongenetic factors could be expected to be more powerful.
And in the case of identical twins, there are also some genetic differences that are surprising. Schizophrenia is clearly influenced by genes, for example. But if one identical twin has schizophrenia, the chance that the other also has it is only about 45 percent to 50 percent.
Not even physical traits like height and weight are perfectly duplicated between pairs of identical twins, Plomin said. Height is among the most heavily influenced by genes, but "you get identical twins who differ by four inches," he added.
Studies show that, in general, the correlation between identical twins is strong for height, less strong for IQ, lesser still for weight and then personality, Plomin said.
Studies show that sexual and religious attitudes exhibit the same level of genetic influence as personality, while attitudes on taxes and politics appear less influenced by genes, said Segal, author of "Entwined Lives: Twins and What They Tell Us About Human Behavior."
Segal cautions that these findings are only population averages and can't predict anything about similarities between individual clones and their progenitors. But it could be that the degree of similarity for various traits will roughly follow the pattern seen in identical twins, she said.
"You're not going to get a perfect replica," she said.
"The idea we're going to take Michael Jordan and make a fantastic sports team ... it's just not reasonable at all."
Copyright 2018 The Associated Press. All rights reserved. This material may not be published, broadcast, rewritten or redistributed. We strive to uphold our values for every story published.