As one of the point guards for Kansas University's women's basketball team, Erica Hallman might have experienced a slice of heaven on Saturday.
The freshman found KU's 83-61 victory over Indiana-Purdue Indianapolis almost easy -- and definitely fun.
It wasn't her team-high 15 points, but those nine assists and just one turnover that gave Hallman something to smile about.
"I don't hesitate to go to any of them," Hallman said of her teammates. "I know they all can score."
Six Jayhawks scored 10 or more points Saturday at Allen Fieldhouse. The widespread scoring allowed for a shootout that was never all that close, snapping KU's four-game losing slide and helping erase the memory of last week's 12-point loss to Missouri-Kansas City.
"I spent the Christmas holiday trying to forget what happened in Kansas City," KU coach Marian Washington said. "This was a good game for us, especially the first half. That was an excellent start."
Kansas (5-4) jumped to a 30-10 lead early in the first half behind the inside dominance of Tamara Ransburg, who finished with 10 points, nine rebounds and four blocked shots.
IUPUI (3-6) never let the lead get much bigger, but never could close the gap significantly, either.
"We were focused on trying to keep the ball moving and being aggressive," Washington said. "I thought the first half we did a nice job at doing both."
Kansas sophomore Blair Waltz, who didn't start against UMKC, returned to the starting lineup and posted her first career double-double -- 11 points and 10 rebounds.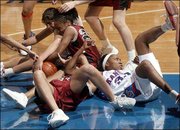 Crystal Kemp (14), Aquanita Burras (13) and Nichelle Roberts (10) also scored in double figures for Kansas.
"It was definitely encouraging to see some offense," Washington said. "I thought Erica did an excellent job. She's a great scorer, but she also has the ability to see players."
But to see so many players who can score, Hallman said, makes things that much better for her.
"That really helps us," Hallman said, "to not let another team focus on one or two players."
Saturday's win was the fifth for the Jayhawks, the same number they ended up with last season. A victory on Monday at Allen Fieldhouse against Hampton will surpass last year's total.
"We'll win more than five games this year," Washington said. "What's more important is that people realize we have a lot of freshman playing and a lot of sophomores playing. I'm just so thrilled with our future."
Copyright 2018 The Lawrence Journal-World. All rights reserved. This material may not be published, broadcast, rewritten or redistributed. We strive to uphold our values for every story published.