A group of Kansas University graduates wants to see how Jayhawks perform at high altitude.
They will leave next week to climb Mount Kilimanjaro, the 19,340-foot mountain in Tanzania. Their goal: To slap a sticker of a Jayhawk on the sign atop the highest peak in Africa.
"You've got a bunch of overweight, out-of-shape, sheltered suburbanites going to Africa on a whim," said Brett Nenninger, a 1996 Kansas University graduate who lives in Leavenworth. "There will be some sort of comedy or tragedy."
Blame for the idea goes to Steve Pennington, a 1998 computer engineering graduate and current Ph.D. student, and Mike Swink, a 1994 computer engineering graduate. They formerly owned a Seattle computer company.
They saw "Kilimanjaro," an IMAX film, and decided to climb the mountain themselves.
"Somehow in the movie it portrays that you don't need any technical skills to do it," Nenninger said.
The group of seven hikers -- which includes four KU graduates -- will leave Wednesday for Tanzania.
"We're going to a whole different area we've never been before," said Todd Thompson, a 1998 graduate in political science and psychology, also of Leavenworth. "There's so much about it that's fascinating."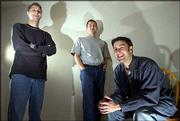 The climb up takes seven days; it's only one day down. It's a nontechnical climb, which means it's more like a steep hike. Porters will carry the Jayhawks' gear, and they'll sleep in tents.
After the climb, they'll go on a weeklong safari.
No one in the group has much hiking or climbing experience. But some of them have been training for the climb.
"I did a 14,000-foot peak in Colorado," Nenninger said, "and it was probably the most hellish trip of my life."
For Nenninger, the trip may be even more of a challenge than usual. He had his appendix removed Nov. 29.
"I'm really not supposed to be lifting anything heavy," he said. "(My doctor) said it's cutting it close but not to strain myself. It's better it happened now than if I was in Africa."
Thompson said the trip would be a talking point for the friends. He's just hoping to get that Jayhawk sticker at the top of Kilimanjaro -- if for no other reason than pride on their first major climb.
"We might as well start big," he said. "If I never do it again, we'll have this one under our belt."
Copyright 2018 The Lawrence Journal-World. All rights reserved. This material may not be published, broadcast, rewritten or redistributed. We strive to uphold our values for every story published.