James Simpson knows the benefits of Lawrence's annual Free Community Holiday Dinner -- so much so that Wednesday's event marked the third consecutive year he's attended.
"The town's all closed up. It's better to be around people than home by yourself," said Simpson, a retired electrician.
Along with Simpson was his good friend, Areta Meyer of Lawrence. Her bright red, Christmas sweater, seemed to reflect the mood of many at the dinner.
"You get to see really nice people. I know quite a few, since I've lived here all my life," said Meyer, who worked as head cashier in the business office of the Kansas Union for 19 years.
Whether you were volunteering, dining or picking up a hot meal to take home, Wednesday's Free Community Holiday Dinner seemed to be a fun and meaningful occasion for everyone involved.
The annual event, staged for the ninth year in the fellowship hall of First United Methodist Church, 946 Vt., was marked by laughter, smiles -- and plenty of quiet, contented eating.
There was an impressive spread of holiday dishes for the estimated gathering of 250 people to choose among, including 25 turkeys specially prepared by John Thompson, chef at Free State Brewing Co., 636 Mass.
The dinner, which lasted from 11 a.m. to 2 p.m., featured a long list of traditional favorites: roasted turkey, sliced ham, mashed potatoes and gravy, dressing, french-cut green beans, corn, cheese broccoli, relish and cheese trays, cole slaw and dinner rolls.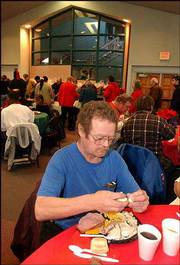 Oh, and desserts -- lots of them. There were pies of every variety: pumpkin, cherry, pecan, raisin, apple and blueberry. On top of that were assorted fudges, cookies and cakes.
"We have a good selection of desserts for people, and I think that's really fun. What I do is take one of each," said Brower Burchill, who, along with his wife, Mary Burchill, serves on the committee that organizes the dinner.
Aside from the hundreds of people who turned out for the meal at First Methodist -- which is made possible by donations of money, supplies and services from local businesses and individuals -- nearly 280 more Lawrence-area residents enjoyed having a hot dinner delivered right to their homes.
All told, about 500 people were served by the Free Community Holiday Dinner.
Meyer summed up the benefits of what was an enjoyable holiday event:
"All of the food is good, as long as I don't have to cook it. It's just a nice place," she said.
Copyright 2018 The Lawrence Journal-World. All rights reserved. This material may not be published, broadcast, rewritten or redistributed. We strive to uphold our values for every story published.