London — Joe Strummer, a diplomat's son who became a snarling punk icon as an electrifying singer-songwriter for The Clash, has died at age 50.
Strummer died Sunday, said Richard Davies, coroner's officer for west Somerset. A statement released by his record label said Strummer "died peacefully at his home" in Broomfield in southwest England.
The British Broadcasting Corp. quoted The Clash's video director, Don Letts, as saying Strummer died of a heart attack. The coroner's office said an autopsy would be conducted Monday or today.
Strummer's influence far exceeded his record sales. U2 singer Bono called The Clash "the greatest rock band. They wrote the rule book for U2."
Live Aid founder and former punk musician Sir Bob Geldof said The Clash "will be endlessly influential. They will always be one of the deathless rock bands."
British singer-songwriter Billy Bragg said, "Without The Clash the whole political edge of punk would have been severely dulled."
The Clash will be inducted into the Rock and Roll Hall of Fame in March. The band emerged from the 1970s London punk explosion that produced the Sex Pistols, The Damned, The Stranglers, and Siouxsie and the Banshees.
The Clash's members were older -- Strummer once said he had not picked up a guitar until he was 21 -- and their musical horizons were wider.
The band's 1977 debut album combined the guitar shock of songs like the incendiary "White Riot" with a strong reggae influence. By the time of their third album, "London Calling," in 1979, the band had fused rock, funk, ska, reggae and blues into a giddy, original musical force.
Many critics consider "London Calling" punk's masterpiece; Rolling Stone magazine named it the best album of the 1980s, despite its release date.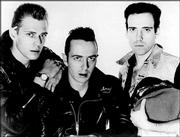 Forsaken privileges
Strummer was born John Mellor in Ankara, Turkey, the son of a British diplomat. Unlike most of his punk contemporaries, he was educated at private school.
After busking on the London Underground and playing with London pub-rock band the 101ers, he and guitarist-songwriter Mick Jones formed The Clash in 1976.
The band signed with CBS Records for $200,000. The record company considered the band's first album too crude for U.S. release, and it was not until 1979 that a compilation album, "The Clash," was released in America.
Melding Strummer's rough yelp of a voice and Jones' crisp guitar work with the sinuous rhythm section of Paul Simonon and Topper Headon, the band fused diverse influences with a growing commitment to left-wing politics. Its political voice was most fully expressed on the 1980 triple album "Sandinista!," inspired by Nicaragua's 1979 revolution.
No looking back
The band split in the early 1980s after a dispute between Strummer and Jones, who subsequently formed the group Big Audio Dynamite.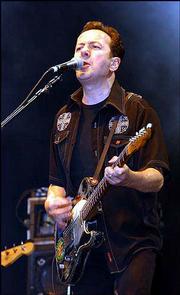 Despite many offers, The Clash never got back together.
"I know for a fact they were offered huge amounts of money," Geldof told British Broadcasting Corp. radio. "They just said no, that isn't really what we stood for. That's truly admirable."
Strummer's post-Clash solo work included soundtracks for filmmaker Alex Cox -- notably the punk biopic "Sid and Nancy" and the historical drama "Walker." He also appeared in "Mystery Train," the Memphis-set 1989 film by American director Jim Jarmusch, and served briefly as lead singer of London-Irish rabble rousers The Pogues.
He released a solo album, "Earthquake Weather," in 1989.
In the late 1990s he formed The Mescaleros, releasing the well-received albums "Rock Art & The X-Ray Style" and "Global A Go-Go." Strummer and the band finished their latest tour last month.
"I don't want to look back, I want to keep going forward. I still have something to say to people," Strummer said in a November interview with the Liverpool Echo newspaper.
Strummer recently collaborated with Bono and Dave Stewart of The Eurythmics to write a song honoring former South African President Nelson Mandela. Titled "48864," Mandela's number in prison, the song will be played Feb. 2 at an AIDS benefit concert at Mandela's former prison on Robben Island.
Strummer is survived by his wife, Lucy, two daughters and a stepdaughter. Funeral plans were not announced Monday.
Copyright 2018 The Associated Press. All rights reserved. This material may not be published, broadcast, rewritten or redistributed. We strive to uphold our values for every story published.