They wore Santa Claus hats and sandwich signs but not much else.
Five Lawrence women drew honks, cheers and criticism downtown Sunday by staging a nearly naked animal-rights protest.
Their message: They'd rather expose their shivering flesh to holiday shoppers than wear fur.
"A couple hours of discomfort is nothing compared to what animals on fur farms endure," 25-year-old software engineer Megan Fobes said as she held a sign against her midsection.
To avoid arrest for public indecency, the women at Eighth and Massachusetts streets wrapped their torsos in peach-colored nylon beforehand. Two of them - Monica Dibben, 28, and Aryenish Birdie, 17 - wore bathrobes with signs underneath and flashed motorists as they passed.
Many drivers honked, whether to show their distaste for fur or their enthusiasm for human skin. One driver asked where he could find a good prime rib, and others shouted that animals exist for humans to eat and wear.
The protest was organized by Animal Outreach of Kansas, a Lawrence-based group with about 65 members. But it was part of a nationwide campaign by People for the Ethical Treatment of Animals, a sometimes controversial group.
Lawrence resident Lorie Foltz, 40, heard about the protest in advance and went downtown to challenge the protesters.
Foltz cited news reports that say PETA gave money to the Earth Liberation Front, a covert group that torches buildings as a way to stop development in environmentally sensitive areas.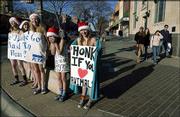 "I don't want to see minks and foxes killed. Standing out there to get attention is a fantastic thing, but research," Foltz said. "PETA has been in a lot of trouble."
Fobes said it might have been a public-relations mistake for PETA to give money to the group, but she said she supported the Earth Liberation Front's tactics.
"It might be important to mention that not one drop of blood has been shed in the entire animal rights or environmental rights campaign," she said.
The protesters' message puzzled Jeff Morrison, leader of a group that was singing Christmas carols on the opposite street corner to raise money for charity.
At times, his group's harmonies were drowned out by chants of "Hey, Hey! Ho! Ho! Wearing fur has got to go!," but Morrison was good-natured about it.
"It was distracting. We couldn't really figure out if there were very many people in Lawrence who wear fur," he said. "They can do whatever they think they need to."
Copyright 2018 The Lawrence Journal-World. All rights reserved. This material may not be published, broadcast, rewritten or redistributed. We strive to uphold our values for every story published.