Havana — Adigio Benitez steps out of the morning drizzle and through the doorway of his ground-level flat in a building with peeling paint, moving from the mundane to his own world of enchantment.
A kaleidoscope of lively paintings greets the 79-year-old artist. Bright colors dominate the playful scenes in his artwork, in which much of the world is represented as origami and sprinkled with irreverent characters borrowed from history or religion.
"The paper figures allow me to bring a little humor to painting," says Benitez, who won Cuba's National Prize for Plastic Arts this year. "I was searching for a more poetic way of saying things."
The gray-haired art professor is among dozens of Cuban artists who are flourishing as the government promotes art abroad and economic reforms allow artists more freedom to market their work. They also are benefiting from an increased interest in Cuban art by American collectors.
The great Cuban modernists - Wilfredo Lam, Mariano Rodriguez and Amelia Palaez del Casal - have long been internationally recognized. Many painted with Pablo Picasso, and their work is found in galleries and museums worldwide.
But increasingly, the island's newer art is getting international attention, with the United States its biggest market.
"There has been an intense development of the plastic arts in the last decade, from production, promotion to marketing," says Lourdes Alvarez, vice president of the Culture Ministry's National Council of Fine Arts. "There is a lack of a domestic market. That's why the foreign market is important."
Since the mid-1990s, Cuban artists have been allowed their own galleries, most often in their homes. Like other small businesses here, artists are charged a 10 percent tax on profits.
Cuba's latest initiative was an online art auction of 62 paintings and sculptures. Works by Lam, Palaez, Rodriguez, and young artists such as Carlos Estevez were on display at www.subastahabana.com last month. Another 66 works were sold in a live auction Dec. 11.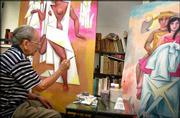 Benitez has a piece in the cyber auction, but it belongs to the more somber style of his youth, dedicated to the suffering of working-class life in Cuba. "Abriendo Caminos," from 1958, depicts three handcuffed peasants being marched down a country lane by soldiers on horseback.
His newer work is more playful.
A self-portrait in his small dining room shows an origami Benitez dozing in a yellow arm chair, surrounded by a Japanese geisha, a plump woman from a Fernando Botero painting, and other women.
Plopping down on his sofa, Benitez opens a catalog and examines a painting of an origami woman making love to the Torso of Belvedere, a first-century Hellinistic-Greek sculpture. The piece belongs to a Colombian collector.
Those fresher Benitez paintings are attracting attention from collectors, especially Americans. In November 2000, more than 800 Americans traveled to Cuba to attend the Havana Biennial, a citywide art exhibit that included his work. Benitez's work caught the eye of Leslie Bigelman, the American director of the National Gallery of the Cayman Islands, who organized an exhibit of his paintings in her gallery between February and April 2002.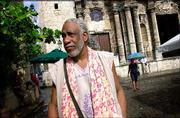 "There was a time when there were hardly any ties between Cuban artists and countries in the Americas, not just United States," Benitez says. "Now, there is a very fruitful relationship between the United States and Cuban artists."
American interest in contemporary Cuban art grew especially after 1991, when the U.S. Treasury Department exempted art from the four-decade trade embargo on the communist island, said Sandra Levinson, director of the New York-based Center for Cuban Studies. Levinson's group spearheaded a lawsuit that prompted the decision.
"Things have changed a lot," Levinson said during a visit to Havana in mid-November. "Before 1991, hardly anyone brought (Cuban) art into the United States."
Those who did often got into trouble. In 1971, U.S. customs seized several Cuban posters Levinson tried to bring across the Canadian border.
A more dramatic episode involved collector Ramon Cernuda's Cuban Museum of Art and Culture in Miami. In 1989, U.S. Customs seized more than 200 paintings he bought from artists living in Cuba. Months later, a federal judge ordered the paintings returned, finding the seizure violated the First Amendment.
The museum was bombed the previous year after an auction of paintings by artists still in Cuba. The auction was criticized by Cuban exiles who said the artists weren't sufficiently anti-communist.
Copyright 2018 The Associated Press. All rights reserved. This material may not be published, broadcast, rewritten or redistributed. We strive to uphold our values for every story published.