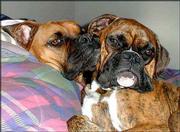 Special to the Journal-World
BOXERS MACKENZIE AND MADISON cozy up together on top of a bed. The dogs belong to Shelly Beasley and Debbie Gilley. Have a photo for Pet Post? Send or bring the photo and some information about your pet to the Journal-World, 645 N.H., Lawrence 66044. Photos can also be posted online at www.lawrence.com/publish/postem/pets.
Copyright 2018 The Lawrence Journal-World. All rights reserved. This material may not be published, broadcast, rewritten or redistributed. We strive to uphold our values for every story published.