When Pok Chi Lau was 19 and living in Hong Kong, his parents borrowed enough money to pay for two cameras, a plane ticket and college tuition for their son.
He ended up in Toronto, living with his cousin in an Italian neighborhood and longing for the familiarity of home.
Everything was supposed to be bigger, better, faster in the Golden Mountain, the name given by Chinese immigrants to the United States and Canada, where they went to escape oppression. But at a "Chinese" restaurant in Toronto, Lau's watered-down wonton noodle soup made him realize he "did not get the true story of Gaum Sahn (the Golden Mountain)."
What he began to see instead - as he traveled in the late '70s from one Chinatown to the next as a photography student at Brooks Institute of Photography and California Institute of the Arts - were entire generations of Chinese immigrants who had tossed their dreams aside to take jobs at gold mines, railroads, laundries and restaurants.
Their children and grandchildren are now beginning to reap what they sowed.
"These are the people who paved our roads, so I acknowledge them," said Lau, a 52-year-old Kansas University professor of photography .
He tells their stories in "Dreams of the Golden Mountain," a volume of text and black-and-white photography due in bookstores soon. The sizable collection takes viewers into the Chinatowns of Philadelphia, New York, San Francisco, Boston and other cities. There, Lau found tenements stacked with one-room homes where seven-member immigrant families lived in poverty. One photo shows an "apartment" - temporarily vacant - with a closet just big enough for a toilet and an adjacent room large enough for a single bed to fit snugly.
"These aren't comfortable photographs," Lau said. "I don't make photographs to make people happy or make the room look pretty."
White and yellow
But there is a stark beauty in the human condition, captured eloquently in Lau's photographs.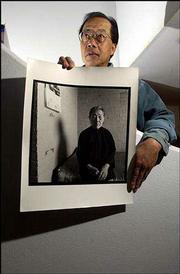 He reveals a bit of himself in the book as well, though he's always the photographer, never the subject. Readers learn about Lau's mother and father, longtime owners of a general store in Hong Kong who later moved to Canada. Viewers also see his son, 14-year-old Tyler Lau, as a Japanese-Chinese infant on the book's cover and later in a Halloween costume, holding a banana - white on the inside, yellow on the outside, just like Tyler, Lau said.
"The whole issue of identity is a very mixed one," Lau said.
That comes through in his photographs of the spiritual spaces in Chinese immigrant and Chinese-American homes. One shot shows a small space in one San Francisco home where two cherub sculptures hang on the wall above an image of Mary and a statue of an Eastern deity.
"When you migrate from a place of origin, you begin to change, you begin to adopt," Lau said. "Yet, they want to hang on to that belief system."
Cultures also have blended in more literal ways through decades of immigration. The last chapter of the book, "The Rainbow Coalition," contains portraits of men, women and children of mixed race: Korean-Caucasian, Chinese-Mexican, Chinese-English-Iranian-Danish.
In one frame, a Vietnamese teen-ager of Chinese descent clings to her African-American lover. The text explains that May and Quincy must keep their relationship a secret because May's parents wouldn't approve. Explanations like this one and lengthier stories about the subjects fill the book, written in English, Chinese and French.
"Photography is not expressing 100 percent what I want to say because it is two-dimensional," Lau said. "I think words are important. I think words can provide depth that I may never get in a photo."
Never bitter
Lau has spent three decades documenting the Chinese diaspora. He has ventured into the seedy depths of urban areas, carrying his photography equipment in "cheap, worn, not-so-tidy-and-flashy, vinyl or canvas bags" so as not to flaunt his means or be targeted by thieves.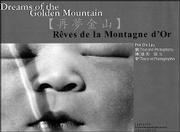 And, he said, despite the hardship his elderly subjects have endured, they never utter a single word of bitterness. Their tenacity has enabled their children and grandchildren to move away from Chinatowns and into suburbs to achieve a different version of the American dream.
Lau's own cousin and wife in the early '70s swam from China to Hong Kong amid sharks and dead bodies. They immigrated to New York, and after five years working 16 hours a day, 7 days a week, they paid cash for a house. Their oldest son recently graduated from Princeton.
Lau has traveled the world capturing life in Chinese communities in his social documentary style. He became a KU professor in 1977 and this year received the Excellence in Teaching Award. His work has been exhibited nationally and internationally.
Lau hopes for a good life for his own son. He closes the book with this poem:
Kansas University photography professor Pok Chi Lau's book "Dreams of the Golden Mountain" will be sold at The Raven Bookstore, 8 E. Seventh St., where a book signing will be at 7 p.m. Jan. 16.The book also will be available on Lau's Web site, www.goldenmountain.com
I dream
I never have to leave home again
like my parents
and the parents before them
who had to run
for a better and safer life.
I dream
my son
won't be called Chink or Jap
and I make sure he won't use the words
Wasp
Honky
Nigger
faggot
dyke
against others
and absorb whatever rotten cultural heritage
may be passed onto him
and avoid
whatever new may come up.
I dream
in the face of all differences
he will love others just the same.
I dream
he will earn the wisdom
to end
the cycle of ignorance
because
American is
Gaum Sahn (The golden mountain)
for dreamers.
Copyright 2018 The Lawrence Journal-World. All rights reserved. This material may not be published, broadcast, rewritten or redistributed. We strive to uphold our values for every story published.