Dallas — Kentucky football coach Guy Morriss resigned Monday night and, according to a source, was to become the new coach at Baylor.
Morriss, a Texas native, will be formally introduced as Kevin Steele's replacement during a news conference Wednesday on the Baylor campus, said a source close to the Bears program, who spoke on condition of anonymity.
Kentucky announced late Monday night that Morriss had resigned to take another coaching job.
"I'm very appreciative of the contributions of coach Morriss, his staff and family in laying the foundation for the rebuilding of Kentucky football," Kentucky athletic director Mitch Barnhart said in a statement. "We wish them the best as they take the next step in their lives and careers."
Steele was fired Nov. 3 before coaching the final three games, all losses to cap a 3-9 season. He was 9-36 in four seasons at Baylor, with a 1-31 Big 12 Conference record that included a 25-game conference losing streak.
Morriss, 51, has been the head coach at Kentucky the past two seasons, having replaced Hal Mumme when the former coach resigned in February 2001 amid internal and NCAA investigations. Morriss was 9-14 in his two seasons.
Morriss was on the Baylor campus in Waco on Monday. He returned to Lexington, Ky., on Monday night and was expected to meet with his team there today.
Kentucky was 7-5 this season, but wasn't eligible for a bowl because of NCAA sanctions. This was the Wildcats' first seven-win season since 1998, the final season for quarterback Tim Couch.
The Wildcats won their first four games this season - their best start in 18 years - and the school rewarded Morriss by adding two more seasons to his contract through the 2007 season.
His contract paid him $400,000, including a base salary of $170,000 plus $230,000 in compensation for his radio and TV shows and the school's endorsement deal with Nike.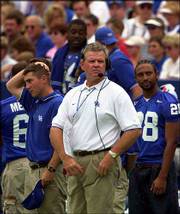 The UK Athletics Association was set to meet this morning, and had been expected to discuss Morriss' contract.
Morriss could make about $1 million a year at Baylor, the only private school in the Big 12 Conference.
Morriss will be the second Southeastern Conference coach in a week to leave for a Big 12 school.
Dennis Franchione left Alabama - also on probation - last week after a 10-3 season to become the new coach at Texas A&M;, where he replaced fired 14-year coach R.C. Slocum. Like Morris, Franchione returned to Texas, having previously coached at TCU for three seasons.
Morriss is a native of Colorado City, Texas, and played offensive guard at TCU from 1969-72 and was an All-Southwest Conference selection his senior season.
He played 15 seasons in the NFL for the Philadelphia Eagles and New England Patriots, appearing in two Super Bowls.
Morriss had several assistant jobs in college and the pros before he became Kentucky's offensive line coach under Mumme in 1997.
Morriss was on the losing end of one of the most bizarre and agonizing finishes ever, when LSU won 33-30 at Kentucky on a deflected 75-yard touchdown pass Nov. 9.
As the final play was still unfolding, Morriss was sopping wet - having already been doused with Gatorade - while fireworks were exploding from the scoreboard and Wildcat fans were attacking a goal post.
Copyright 2018 The Associated Press. All rights reserved. This material may not be published, broadcast, rewritten or redistributed. We strive to uphold our values for every story published.