What James Naismith started with a ball and a couple of peach baskets, Lawrence sculptor Elden Tefft wants to memorialize in art.
And northeast Kansas stands to gain a slew of tourists from the deal.
In his studio east of Lawrence, Tefft is putting the finishing touches on a clay model of James Naismith, the former Kansas University basketball coach who invented the game of basketball in 1891 at a YMCA in Massachusetts. It's a scaled-down version of a piece that eventually would be cast in bronze and flank one of the entrances to a massive public sculpture garden Tefft dreamed up a few years ago at the request of his manager, Merlyn Brown, a 1977 KU graduate.
Tefft said the garden would resemble a life-size basketball court surrounded not by bleachers, but dozens of pedestals - perhaps more than 100 - bearing sculptures commemorating the men and women who have contributed to the development of the sport.
The court itself would include backboards over which water would flow into reflecting pools, a fountain at center court and statues at each free-throw line - one of a yesteryear player shooting into a peach basket, the other of a modern player gunning for the net.
The entire garden would be circled by a grassy, basketball-shaped berm, providing a bird's-eye vantage point for visitors.
Home-grown history
With names like Naismith, Phog Allen and John B. McLendon etched in KU's basketball history, Lawrence seems the natural place to erect such a monumental remembrance of the game, Brown said.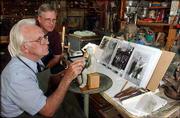 "Between those three and all of the coaching through Dean Smith and now Roy Williams, really basketball grew out of the University of Kansas and Kansas," Brown said. "Dr. Naismith had said any memorial that would be done to him should be done in Lawrence or this area."
The ideas are being refined. Now, Brown and Tefft just need a big chunk of land, a big chunk of cash and a whole bunch of artists willing to be part of their vision.
"I may not be around long enough to do all that has to be done," said the 82-year-old Tefft, a former KU art professor.
The project would probably cost about $10 million and take at least a decade to complete. Even then it wouldn't be finished, the men said.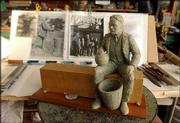 "It continues through eternity as basketball continues to change," Brown said. "It would be a tourism site much before that."
Brown's hoping to snag a spot for the sculpture garden off Kansas Highway 10 or Interstate 70, where it would be hard for locals and tourists alike to miss. Brown said selling limited-edition bronze miniatures of Tefft's Naismith sculpture was a possibility to help raise funds for the project.
The sculpture garden would be a place where artists-in-residence could do educational activities with the public and KU students, Brown said. The public also may be asked to help make decisions about who should be portrayed.
A legendary project
Naismith worked at KU from 1898 to 1937 and is buried in a Lawrence cemetery. Though the sculpture garden would serve as a national memorial in his honor, it also would recognize other points on the basketball timeline, such as the invention of the fast break and the three-point line.
Tefft, a legend in his own right, is credited with reintroducing in the 1940s and 1950s the lost wax-casting process used to create bronze sculpture. The court-size sculpture garden would be one of his largest projects.
His other work in Lawrence includes a 4-foot-tall bronze Jayhawk in front of KU's Strong Hall; "Moses Kneeling," a 10-foot-tall bronze statue in front of Smith Hall; and "Keepers of the Universe," which includes a 12-foot-tall stone depiction of the universe and two stone carvings of a deer and buffalo at Burcham Park.
Brown is betting the basketball attraction would draw tourists from throughout the world.
"Obviously, basketball has opened the doors for kids worldwide to have opportunities," he said. "It's definitely something that Dr. Naismith would be proud of."
Copyright 2018 The Lawrence Journal-World. All rights reserved. This material may not be published, broadcast, rewritten or redistributed. We strive to uphold our values for every story published.