The Douglas County AIDS Project raised about $12,000 Sunday at its annual Red Ribbon Art Auction, slightly less than its goal of $13,500.
More than 100 people attended the auction, which featured clothing, pottery, jewelry and a variety of framed artwork.
"Each year I think we grow a little more," said Janet Horner, chairwoman of DCAP's board of directors.
Now in its 10th year, the auction is DCAP's largest fund-raiser, providing the project with funds for both case management and community education.
"We're certainly hoping for a big success tonight," said DCAP's executive director Sidney Hardgrave, adding that earlier fund-raisers had fallen a bit short of expectations.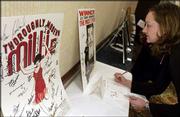 The event, which usually takes place shortly after Thanksgiving, this year fell on World AIDS Day. It also showcased the artwork of former Lawrence resident Dennis Helm, who died 10 years ago from AIDS-related complications.
Horner said the auction was originally started in Helm's memory.
DCAP serves about 60 HIV-positive people in Douglas County. Hardgrave estimated that another 30 to 40 people in the county had the virus.
Copyright 2018 The Lawrence Journal-World. All rights reserved. This material may not be published, broadcast, rewritten or redistributed. We strive to uphold our values for every story published.