Houston — Texas needed some inside scoring to crack Seton Hall's zone defense, and Deginald Erskin provided just that.
Erskin scored 22 of his career-high 24 points in the second half and T.J. Ford added 19, leading the No. 3 Longhorns to a 78-61 victory against Seton Hall on Saturday.
"We just got the upper hand when they got into that zone, our players were getting the ball inside the paint," Erskin said. "We needed a spark. T.J. and the other guards were getting the ball inside and everything was falling."
The Longhorns (4-0) and Pirates (1-1) played the second game of a doubleheader in Reliant Stadium, home of the NFL's Houston Texans, which was converted to a basketball arena for the Space City Classic.
"Our game plan was to get inside and, after a while, they couldn't stay with us down low," Ford said. "He (Erskin) was working hard and when somebody's got the hot hand, you keep feeding it to him."
The Longhorns jumped out to a 16-3 lead, but the Pirates closed to 33-30 at the half and took their first lead of the game with 17:03 to play. Damion Fray's dunk gave Seton Hall a 37-36 advantage.
Sydmill Harris hit a 3-pointer moments later to give the lead back to Texas, and the Longhorns never trailed again. Erskin and Ford helped them pull away down the stretch.
"We played a hard game and gave ourselves a chance, but they wore us down at the end," Seton Hall coach Louis Orr said. "They keep coming at you on the transition.
"For 25-30 minutes, I thought we were right there but I don't think we played our best game," he said.
J.R. Morris led Seton Hall with 12 points and Andre Barrett added 11.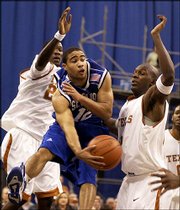 "He's (Erskin) the heart and soul of this team," Texas coach Rick Barnes said. "He has a great feel for the game. I tell the team, to be special you've got to earn it, and he's earned it."
No. 8 Oklahoma 75, Prairie View 63
Norman, Okla. - Hollis Price scored 13 of Oklahoma's final 18 points, leading the eighth-ranked Sooners to a tougher-than-expected victory against Prairie View A&M.;
The Sooners (3-1) only led 38-31 at halftime, then saw Prairie View (1-1) score the first nine points of the second half to take the lead.
Ebi Ere, who scored 16 points, had two baskets and an assist during a 9-0 run that gave the Sooners a 55-48 lead with 8:42 left. But Prairie View rallied, with a free throw and basket by Malachi Thurston and a jumper by Gregory Burks making the score 55-53.
With the score 63-58, Oklahoma went on a 12-2 run that included two 3-pointers and a follow shot by Price.
Thurston scored 16 points and Burks 15 for Prairie View, which shot 53 percent from the field.
Oklahoma State 64, No. 9 Michigan State 61
Anchorage, Alaska - Victor Williams hit six free throws in the final two minutes and Oklahoma State upset No. 9 Michigan State for third place in the Great Alaska Shootout.
Melvin Sanders led Oklahoma State (3-1) with 18 points. Ivan McFarlin scored 15 points and pulled down seven rebounds before fouling out with 6:21 remaining. Williams added 14 points
Aloysius Anagonye had 21 points and eight rebounds for Michigan State, which lost to Villanova on Friday.
No. 18 Missouri 81, Austin Peay 46
Columbia, Mo. - Rickey Paulding had 14 points and nine rebounds and guard Jimmy McKinney returned from an injury as Missouri rolled.
Arthur Johnson had 16 points and three steals, and Ricky Clemons added nine points and eight assists for the Tigers (2-0).
Corey Gipson scored 15 points for Austin Peay (2-1).
Northwestern 59, Kansas State 55
Manhattan - Jimmy Maley scored 15 points, all 3-pointers, and Aaron Jennings added 15 as Northwestern prevailed.
Kansas State (1-3) had the chance to take the lead with 9 seconds left, but Gilson DeJesus missed a 3-pointer. TJ Parker then made two free throws with 7.9 seconds left to seal Northwestern's win.
Frank Richards led Kansas State with 16.
Texas A&M; 79, LSU 77
Houston - Bernard King scored 26 points as Texas A&M; held off Louisiana State in the Space City Classic.
Collis Temple III, who shot 5-of-7 from the 3-point line, led LSU with 19 points. The Tigers were 13-of-26 on 3-pointers.
Texas Tech 83, UTEP 60
El Paso, Texas - Andre Emmett scored 22 points and Texas Tech's defense forced 31 turnovers. Emmett led Texas Tech (3-0) with six rebounds.
Tech recorded 16 steals and scored 41 points off turnovers by UTEP (1-2).
John Tofi led UTEP with 15 points on 6-of-10 shooting.
Baylor 62, Houston 60
Houston - Terrance Thomas hit a 30-foot 3-pointer at the buzzer for his only points of the game to lift Baylor (3-0).
Louis Truscott scored 16 points for Houston.
Copyright 2018 The Associated Press. All rights reserved. This material may not be published, broadcast, rewritten or redistributed. We strive to uphold our values for every story published.