Last season, the Kansas University soccer team made it's first trip to the NCAA tournament before losing, 1-0, to Brigham Young in the first round.
This year, the Jayhawks began Friday's season opener against Nevada-Las Vegas seemingly still with something to prove, scoring two goals in the first 16 minutes.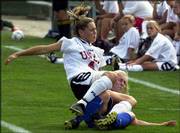 That intensity waned the rest of the game, though, as the Jayhawks gave up two unanswered goals and tied the Runnin' Rebels, 2-2, at SuperTarget Field. It was the team's first tie in more than two years.
"We kind of blew it," KU coach Mark Francis said. "We dominated the first 15 minutes and then we just quit doing the things that had us 2-nil up. We backed off and they didn't give up. They just kept going."
Sophomore forward Monica Brothers scored the Jayhawks' first goal on a turnaround shot just more than a minute into the game. Caroline Smith scored 14 minutes later off an assist from Brooke Jones, giving Kansas a 2-0 advantage.
Smith, a freshman from Edina, Minn., nearly scored again a minute later off a pinpoint pass from defender Lauren Williams, but put a header wide left of the goal.
"I was pretty confident for the first part," Smith said of her first game at KU. "We started off really well and then we kind of slipped. They got a goal back and we started to lose it a little bit after that."
Annii Magliulo scored UNLV's first goal, taking a free kick from teammate Tania Lee and putting it past Megan Miller in the 36th minute.
Michelle Cowles tied the game in the 73rd minute. Cowles headed a pass from Kelly Janke over a leaping Miller and into the right corner of the goal.
"We've got to learn how to finish teams off," Francis said. "When we're up 2-0 in a game that early we've got to be mature enough to handle that, and today we just didn't do a good job."
Neither team could score in the rest of regulation or either 10-minute overtime period.
A bright spot for the Jayhawks was the play of their four freshmen Smith, Kim Karfonta, Holly Ryder and Jessica Smith. Ryder, who assisted on Brothers' goal, and Caroline Smith both started and Karfonta and Jessica Smith both saw played as substitutes.
KU doesn't have much time to dwell on the loss, having to face Boston University at 1 p.m. Sunday at SuperTarget Field.
"We've got a lot of work to do," Francis said, "but it's still the first game so we have a long way to go. It's disappointing, but we'll see how we'll bounce back on Sunday. That will be the test, really."
Copyright 2018 The Lawrence Journal-World. All rights reserved. This material may not be published, broadcast, rewritten or redistributed. We strive to uphold our values for every story published.