OK, let's have a show of hands. How many of you know Lawrence boasts a state-of-the-art horseshoe-pitching facility?
C'mon, get those hands in the air. I'm looking, but not seeing. Oh, you didn't know. Well, join the club.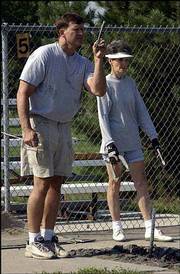 Not many realize Broken Arrow Park contains a horseshoe-tossing facility complete with 18 pits, water, bleachers, lights, fencing and even a concession stand.
"It's the only place we have horseshoes," said Fred DeVictor, city parks and recreation department honcho. "We don't have them anywhere else."
Finding them is tricky. First, you have to know they're in Broken Arrow Park. Then you have to park in the lot between the softball diamond and the shelter house, and start walking north across the grass. There they are.
Trouble is, you have to walk across the grass and some mud, if it rains in order to reach the area.
"We don't have a walkway yet," DeVictor said. "That's an accessibility issue, and that'll happen someday."
What the city did this year was string an electrical line all the way to the concession building so the Lawrence Horseshoe Club could operate a computer during this weekend's Kansas Horseshoe Pitching Championships.
"We couldn't have had the state meet if we couldn't have used computers to keep score," said Wynne Mihura, one of the movers and shakers in the Lawrence Horseshoe Club and the tourney director.
By the way, Wynne is a woman. I know this for certain because several years ago we referred to her as a man in a brief about horseshoeing and she rightfully let us know about it. Wynne a nickname for Wynona is the only female competitor in the LHC.
A retired Hallmark Cards employee, she took up horseshoe-pitching about 10 years ago and learned she was pretty good at it good enough to win the Class D women's world championship a couple of years ago.
Her secret?
"When I was younger, I got trophies for playing basketball and softball, so I was pretty athletic," she said. "If you're not athletically inclined, you'll just be a picnic player."
If you're like me and have tossed horseshoes poorly at picnics, you surely have memories of the metal shoe missing the stake completely, striking the hard ground and cartwheeling away like a tiny tin man on steroids.
No way will that happen in a real horseshoe pit. Stakes are surrounded by soft clay that is watered regularly and turned frequently to prevent drying out. When not in use, pits are covered with a rug and a slab of rubber with a metal handle for easy removal.
"It takes two years for the clay to cure," said Ron Lee, a veterinarian who is such a horseshoe fancier he has built an indoor practice arena on his homestead near Eudora. "All the clay is from the Martin-Marietta quarry between here and Topeka, and was donated to us. You work it until it gets like Play-Doh."
When you toss the shoe, the spheroid goes thunk and sticks in the clay. Unless you miss the pit, of course. Then the shoe will go careening wildly. But the good players seldom miss the pit.
By the way, speaking of donations, you can't turn the clay in the pits without shovels and thanks to Cottin's Hardware, LHC has six brand-new shovels for the state tourney.
Also new at the Broken Arrow Park horseshoe facility is a flag pole. Ken Martin, another long-time LHC member, was installing the pole on Tuesday. A retired state employee, Martin was hooked about 15 years ago.
"I didn't even know there were horseshoe leagues," Martin said. "I drove a water pipe into my backyard and a guy driving by stopped and invited me to join a league. I drove to Ottawa and pitched because we didn't have one here."
Now Lawrence does. On Thursday nights, LHC has league play for every age and skill level.
Symbiotic relationships between recreational clubs and the city aren't unusual. On a larger scale, the city works with the Lawrence Aquahawks and the Lawrence Tennis Association on facility use. Too, disc golfers use the city's facility in Centennial Park. And, of course, city horseshoe pitchers call Broken Arrow home.
"It's a good relationship," DeVictor said. "The club does the maintenance and we do the mowing."
It's not that simple, of course, yet too often we forget that when people work together it works.
Copyright 2018 The Lawrence Journal-World. All rights reserved. This material may not be published, broadcast, rewritten or redistributed. We strive to uphold our values for every story published.