Friars Point, Miss. — Some 100 law enforcement officers turned this sleepy Mississippi Delta town into a virtual combat zone after a shooting suspect evaded capture, held one officer hostage and wounded five others during a bloody 36-hour saga.
Residents said police twice unleashed a storm of gunfire that shook houses throughout the neighborhood. The gunfire was directed at a dumpy one-story house where Patrick Hopper was holed up for a time with hostage John Martin-Harris, a Friars Point officer.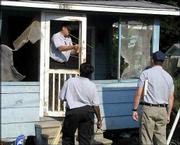 "It sounded like a war zone," said Charles Smith, a neighbor who watched the struggle from behind a nearby house.
Mayor Herbert Thomas said none of the five wounded officers was seriously hurt. Hopper was in custody.
Coahoma County Sheriff Andrew Thompson said Monday that Hopper would be charged with aggravated assault in the wounding of Friars Point Police Chief Anthony Smith. Additional charges were likely as lawmen sort through what happened, he said.
Hopper, 19, was wanted originally for a Friday night shooting that left a man injured.
Smith tried to arrest him on Saturday when he was spotted walking down a street. But before the police chief could get out of his car, he was struck in the neck by a bullet allegedly fired by Hopper.
In response, sheriff's deputies and other lawmen streamed into this town of 1,400 about 70 miles southwest of Memphis.
When officers finally located Hopper at a friend's house, Martin-Harris and sheriff's deputy Victor Randle were shot, Thomas said. With Martin-Harris hurt and apparently taken hostage, more officers arrived. Police attempted to negotiate with Hopper.
Around 3 a.m., officers wearing bulletproof vests used a battering ram to bust through the door, said Mississippi Department of Corrections officer Kenny Scott.
"We got the door opened and that's when the shots started," Scott said. He spoke by telephone from his hospital room where he was recovering from a leg wound. Another lawman, sheriff's deputy Neal Mitchell, also was wounded in that confrontation.
Before dawn, Martin-Harris called from inside the home and the officers discovered that the suspect had slipped away. One problem in spotting him was that officers had shot out neighborhood lights, residents said.
Hopper then turned up at his grandmother's home. About 80 officers surrounded the home, Hopper finally surrendered Sunday morning after less than an hour of negotiations, Thomas said.
Hopper remained in the county jail Monday without bond.
It wasn't immediately known what led to the shooting Friday night of Friars Point resident Doyle Hunter. He was shot in the face and shoulder and remained hospitalized Sunday, said his cousin, Teanna Bell.
Copyright 2018 The Associated Press. All rights reserved. This material may not be published, broadcast, rewritten or redistributed. We strive to uphold our values for every story published.