Construction work has begun on a new $1.5 million shopping center that will add another dozen shops to the area near Hy-Vee Food and Drug Store, 4000 W. Sixth St.
Developer Bob Johnson of The R.H. Johnson Co. said he expected construction on the center to be complete by December. The center is located directly east of the Hy-Vee store.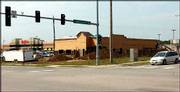 He said the project will be similar to the shopping center that is adjacent to the Hy-Vee store at Clinton Parkway and Kasold Drive. It also was developed by The R.H. Johnson Co., a Kansas City, Mo.-based real estate firm.
"We'll be looking to do the same thing with this project, but instead of serving the community needs along the 23rd Street corridor, we'll be looking to serve the needs of residents up and down Sixth Street," Johnson said. "We feel like that area of Sixth Street is one of the hottest areas of Lawrence.
"As the residential area continues to grow, we feel like that area is going to need more retail services."
Johnson said several businesses had signed leases for the new center, but he declined to release names. He said the tenant mix would be similar to the Clinton Parkway center. That center has a card shop, restaurant, bagel store, liquor store, travel agency, dry cleaner, beauty salon and dental office.
The Sixth Street project also includes a separate building on the southeast corner of the property that will house an Applebee's Neighborhood Grill & Bar. Applebee's officials recently confirmed the restaurant would open in October. The restaurant will be the second Lawrence location for the company. It will continue to operate its restaurant at 2520 Iowa.
Johnson said the 25,000-square-foot shopping center was the final phase of development for the 12-acre Hy-Vee development, which opened three years ago. When the shopping center and the Applebee's is complete, the corner will have 97,000 square feet of retail space. Johnson said the new shopping center would include shops of 7,000 square feet or less and likely would include about 12 different businesses.
Johnson said he didn't expect any difficulty in filling the development, even though commercial real estate has been in a small slump.
"The office and industrial market has slowed down, but the retail sector has been pretty steady," Johnson said. "Retail always follows residential growth, and Lawrence has experienced very impressive residential growth over the years.
"Sixth Street is going to continue to increase in traffic, and that is what many of these retail businesses are looking for."
Copyright 2018 The Lawrence Journal-World. All rights reserved. This material may not be published, broadcast, rewritten or redistributed. We strive to uphold our values for every story published.