Lawrence High's two-a-day football practices just became two-a-night practices. Or, in the case of the Free State High, one big, long practice.
Thanks to an odd Kansas State High School Activities Assn. rule, which states that the first week of practices for all teams shall begin 14 weeks before Thanksgiving, high school teams began practice Monday, three days after school started.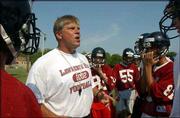 It makes an odd start for the high school season, to say the least.
"I've been coaching since 1975 I haven't been at the high school level all that time but it's the first time I've ever seen it start after school started," said LHS football coach Dirk Wedd. "It's the first time I've ever even heard about it."
Wedd's team is lucky. Instead of practicing before school or after school in one long practice, the Lions will split up this week's practices. They go for two hours after school, then come back at 7 p.m. and practice for a few more hours, the last 45 of which are under the lights.
"I like going at 7 because the heat's a little less and it gives parents an opportunity to come watch practice," Wedd said. "But it's really tough on the kids. School's their No. 1 priority, and they've got practice staring them in the face basically from 3 to 9."
Over at Free State, Firebirds coach Bob Lisher is trying a different tactic, mostly because he doesn't have the use of lights at his practice fields. FSHS practices from 3:30 to 8 p.m., with 15 minute water breaks every hour.
"It would be nice if the state of Kansas would let us coach our kids," Lisher said, clearly aggravated about the loss of two-a-days. "We're gonna do it for one week, but we're not gonna do it past that. Still, it would be nice to have a week of two-a-days."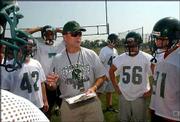 What teams miss without two-a-days is the chance to spend more time teaching offense, defense and special teams. Throw in heat acclimation and some conditioning, and suddenly, the coaches think they're behind.
"It changes everybody's schedule," Lisher said. "Students, parents, coaches. Seems like we coach them less and less."
The other worry for Lisher, Wedd and city coaches in other sports is the pay-to-play fee installed by the district this summer. Each athlete pays $50 per sport to alleviate the state budget cuts in education. There are about 20 fewer Lions and about 15 fewer Firebirds out for football this year.
Both coaches admit the team's numbers will fluctuate the first week, but worry that the overall numbers will stay down from last year.
"Whether or not it's pay-to-play, I don't know," Wedd said. "But we're down from last year."
Regardless of numbers or practice times, both teams will chug ahead as normal. Lawrence and Free State both will have intrasquad scrimmages Saturday at Memorial Stadium, then the annual Fall Jamboree comes up Aug. 29. By then, the depth charts should be set for the Sept. 6 season openers when LHS travels to Leavenworth and FSHS plays Shawnee Mission Northwest at Haskell Stadium.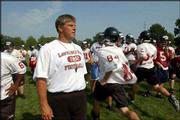 Copyright 2018 The Lawrence Journal-World. All rights reserved. This material may not be published, broadcast, rewritten or redistributed. We strive to uphold our values for every story published.