New York — Most children 4 and under don't realize that it's a taped replay from Sept. 11 when television screens show the World Trade Center collapsing in a cloud of dust. They think it's happening all over again.
Some NBC News executives were taken aback when told that by Harold Koplewicz, a psychiatrist and founder of the New York University Child Study Center.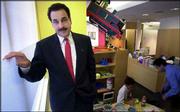 The network has taken the unusual step of hiring Koplewicz as an adviser, realizing the hours of coverage planned for the one-year anniversary of the terrorist attacks could reverberate in unexpected ways.
"If we're going to show images of the buildings falling down again, parents should be very concerned about the effect it will have on children," Koplewicz said. "Children under age 5 should not be watching this."
A study by the Harvard Medical School in June estimated that 50,000 schoolchildren in New York are at "extreme risk" because pre-existing emotional problems can compound the effects of trauma from the attacks.
That's just in New York City the epicenter of the terrorism. Television has the ability to spread the hurt around.
Koplewicz understands why the networks will cover the anniversary extensively. He's hoping for a little sensitivity; maybe broadcasters can warn parents in advance when some of the more disturbing images will be shown again.
Film of people running and screaming away from the debris cloud from the World Trade Center is particularly upsetting to young people, he said. "I frankly don't see any value in kids seeing this," he said. "What upsets kids is seeing adults out of control."
For children aged 5 to 12, Koplewicz advises parents to pick an hour when they expect the coverage to be relatively sedate, and watch it with their children. It should spark a discussion about what happened.
Parents often have much less control over what teenagers watch. But Koplewicz suggests parents try to keep an eye on what they're doing, and talk about the event with them, too.
He said parents should be as vigilant with their children during next month's anniversary coverage as they would during a scary movie.
Most children who were not directly affected, like most adults, returned to their normal lives in the months after the attacks, he said. Many became more aware of the world around them not a bad thing, he said.
Last week, Koplewicz met with producers at NBC and MSNBC to discuss their Sept. 11 coverage. He will appear on the air during a town hall meeting moderated by Tom Brokaw next month, and has filmed a handful of public service announcements.
Mark Lukasiewicz, executive producer for special projects at NBC News, said that the network is not giving up any of its editorial independence in hiring Koplewicz.
He's an adviser, much like NBC contracts with experts in national security or the military during wartime.
Having an idea how the coverage might affect children "is not necessarily at the top of my mind, and I don't know how it will affect the coverage, but it's good to know that," Lukasiewicz said.
Copyright 2018 The Associated Press. All rights reserved. This material may not be published, broadcast, rewritten or redistributed. We strive to uphold our values for every story published.