Kandahar, Afghanistan — Uniformed girls marched alongside male classmates as hundreds of spectators turbaned men and women with their burqas thrown back cheered them on Monday in a new mood of liberation marking this former Taliban stronghold's first Independence Day celebration in more than two decades.
"After so many years, we feel liberty," said teacher Fereba Fayas, who sat with her blue burqa flipped over to reveal a stylish embroidered shalwar kameeza, a loose-fitting pajama-like garment. "In the past, all events were only for men, but now we are very happy to celebrate this day together."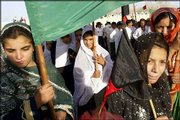 Though the daylong festivities in Afghanistan's second-largest city were meant to mark the country's independence from Britain in 1919, some people saw it as a chance to celebrate an end to their war-torn past and the restrictive rule of the Taliban.
"Not since the time of King (Mohammad) Zaher Shah have we seen this peace and happiness," said Abdul Majid, 65, who had staked out a spot overlooking the morning military parade through the city. "It's a good sign for everyone. No more communists, no more fighting, no more Taliban."
Earlier in the day, thousands of people had lined the streets cheering, as soldiers, tanks and armored vehicles marched past a sea of fluttering black, red and green Afghan flags and banners draped across buildings and signposts throughout the city.
"In the future, we won't show you ammunition and guns," proclaimed Kandahar Gov. Gul Agha Sherzai from a large dais along the morning parade route. "We will show you the development of the country. We will show you open doors to schools. We will show you peace in the country."
Curious onlookers crowded onto rooftops and balconies and even stoplights to catch a better view of the spectacle as a military brass band provided the lively soundtrack.
Standing on the sidelines, Maj. Gen. Sayed Zainuddin Rohani, 42, watched proudly as some 5,000 soldiers, many trained by him in the new national army, marched beneath giant banners reading "Long live the Afghan nation."
"Every person in his life has special moments the day he gets married, the day his son is born. But for me, this is the most beautiful moment in my life," Rohani said.
Despite early fears that the celebrations would be targeted for attacks, no violence was reported. Police had been beefing up security for the past several days, establishing checkpoints at all the major entrances into the city.
Leaders in Kabul canceled their main military parade last week, citing financial reasons. Security concerns have been paramount after last month's assassination of Vice President Abdul Qadir and the discovery of a would-be car bomber.
In the capital, holiday ceremonies were largely confined to the city stadium. Security forces swung rifle butts to drive back crowds outside the stadium, while inside, President Hamid Karzai, his Cabinet, and ex-king Mohammad Zaher Shah watched the festivities from the stands.
"It's now your duty to keep this freedom forever," Karzai told the thousands gathered in the glaring sun. "I congratulate the entire nation of Afghanistan on this Independence Day."
Copyright 2018 The Associated Press. All rights reserved. This material may not be published, broadcast, rewritten or redistributed. We strive to uphold our values for every story published.