Washington — President Bush's case for ousting Iraqi leader Saddam Hussein is turning into a tough sell, drawing opposition from allies at home and abroad.
Some important members of the Republican establishment are voicing caution and restraint, and they, rather than Bush, are leading the public debate. Furthermore, U.S. allies are lining up solidly against such an operation.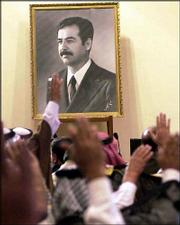 The president says he will consult with others but will make his decision "based on the latest intelligence."
Some administration officials suggest that means he has new information on Saddam's activities he's not ready to disclose. Other observers say it just underscores that he hasn't made up his mind.
Bush and his advisers realize they've taken some lumps recently in the public-relations debate, aides said, particularly after doubts were sown by several respected Republicans including Brent Scowcroft, national security adviser to Bush's father.
The White House is trying both to prepare the nation for a possible military strike against Iraq and to calm restive fellow Republicans. White House spokesman Ari Fleischer called the dissension among GOP ranks "a constructive part of a process."
Aides continued to press the case for toppling Saddam. Senior officials met recently with Iraqi opposition figures and the Pentagon was moving heavy equipment into the Gulf region.
But resistance was mounting, too.
Bahrain headquarters for the U.S. Navy's 5th Fleet came out against a military operation. So did German Chancellor Gerhard Schroeder, strongly. And Russia, despite its support for the post-Sept. 11 antiterror coalition, readied a $40 billion economic cooperation pact with Baghdad.
"An attack on Iraq at this time would seriously jeopardize, if not destroy, the global counterterrorist campaign we have undertaken," Scowcroft wrote last week in the Wall Street Journal. Given Scowcroft's close friendship with the Bush family, and his usual reserve, the retired general's bluntness raised questions and grabbed headlines.
Other Republicans urging caution include House Majority Leader Dick Armey of Texas, former Secretary of State Henry Kissinger, and Sens. Richard Lugar of Indiana and Chuck Hagel of Nebraska.
Copyright 2018 The Associated Press. All rights reserved. This material may not be published, broadcast, rewritten or redistributed. We strive to uphold our values for every story published.