Washington — Videotapes that appear to show al-Qaida gassing dogs and practicing kidnappings made for grisly viewing on CNN, but U.S. officials said Monday the images so far haven't revealed the organization has any unexpected capabilities.
President Bush, vacationing at his Texas ranch, had been fully briefed on the tapes, said spokesman Ari Fleischer.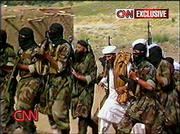 Some tapes appear to show al-Qaida operatives conducting mock ambushes and kidnappings. Most of the tapes appear to have been made before Sept. 11, although some show television coverage of the attacks in New York and Washington.
"This is a serious reminder of the type of enemy we're up against and the risks the world faces from people who would use weapons to bring harm to innocents," Fleischer said. "This is a vivid illustration of what terrorism means and the threats it poses."
Gordon Johndroe, spokesman for the White House's Office of Homeland Security, called the videos "consistent with our previous information that (al-Qaida leaders) would use chemical weapons if they're able to obtain them."
There was no credible information that the group had been successful in its effort to obtain weapons of mass destruction, he said.
Fleischer said government officials will be reviewing CNN's tapes for any useful intelligence information.
"The appropriate officials will take a look," Fleischer said.
This morning in Asia, CNN aired portions of a tape it obtained of a May 26, 1998, news conference, restricted to select Pakistani journalists and one Chinese writer at which al-Qaida leader Osama bin Laden declared war on the West and Israel.
"By God's grace, we have formed with many other Islamic groups and organizations in the Islamic world a front called the International Islamic Front to do jihad against the crusaders and Jews," bin Laden was heard saying through an interpreter.
At another point in the broadcast, monitored in Hong Kong, bin Laden hints at targeting Americans, just weeks before the deadly bombings of two U.S. embassies in Africa.
"And by God's grace, the men reacted to this call and they are going on this path, and they are doing a good job," bin Laden said. "By God's will, their actions are going to have a successful result in killing Americans and getting rid of them."
U.S. intelligence officials said Monday that al-Qaida's poisoning of a trapped dog does not necessarily mean the group can kill large numbers of people with chemical or biological weapons. Many of those chemicals are easy to obtain but difficult to distribute in a way that would cause massive casualties.
Before the Afghanistan conflict, U.S. intelligence believed bin Laden probably had access to crude, World War I-era chemical weapons like chlorine and phosgene, many of which are also available to heavy industry. His group may also have had small quantities of biological toxins and diseases.
But al-Qaida operatives have lacked the ability to disperse them over wide areas. This is still believed to be the case, a senior Bush administration official said Monday.
Copyright 2018 The Associated Press. All rights reserved. This material may not be published, broadcast, rewritten or redistributed. We strive to uphold our values for every story published.