San Jose, Calif. — There's high-speed Internet in the air.
A technology originally developed to link PCs in small, wireless clusters is spurring grassroots efforts to create Internet "clouds" that could eventually bypass the networks of big telecommunications providers.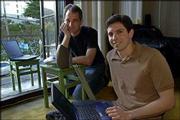 So far, the greatest buzz over WiFi, or Wireless Fidelity, has surrounded the sharing of connectivity among neighbors, friends and strangers.
But the inexpensive technology, known scientifically as 802.11b, may be destined for something much bigger. Users are expanding homegrown networks with little or no control from the local phone or cable company.
"This feels like the Internet from 1994," said Scott Shamp, director of the New Media Institute at the University of Georgia, which is working with Athens, Ga. to install a wireless cloud downtown.
Such wireless networks don't require millions of dollars for digging trenches, laying cables or building towers. Anyone who wants to be a service provider only needs a dedicated Internet connection and a $200 access point.
Users pop a $70 card into their desktops or laptops to link to the networks, usually within a few hundred feet of the access points. Some products even have built-in transmitter and receiver capabilities, allowing users to grow the network while they're online.
Intel Corp., for one, says it plans to build such functionality into chips.
Wireless clouds could support a new generation of technology, from always-on portable phones and handheld computers to futuristic sensors that could continually update weather or smog conditions, for instance.
Coverage remains limited today, a far cry from what is offered by cable, phone and cellular companies. WiFi is still mostly used to provide Internet to laptops and desktops in homes and offices as well as airports, hotel lobbies and coffee shops.
But advocates say WiFi's organic growth, low cost and simplicity bodes well for future development. And while current wireless equipment extends DSL or cable Internet service to several hundred feet, the range can grow to a dozen miles or more with the addition of a stronger antenna.
Countless free access points are up and running. Most are advertised on the Web. A group in London has even proposed marking hot spots with chalk.
Telecom industry in jeopardy
So far, these early efforts do not threaten service providers.
But they could eventually spell trouble for the debt-laden telecom industry, which has spent billions rolling out wired and terrestrial networks, said Nicholas Negroponte, director of the Media Laboratory at the Massachusetts Institute of Technology.
"The decline you've seen in (telecoms industry) market value may not just be some trend that will bounce back with the rest of the market," Negroponte told a recent Congressional Internet Caucus Advisory Committee meeting. "It may not bounce back because we're going to use telecommunications very differently."
Most of telecoms' grumbling over WiFi stems from customers publicly sharing their cable or DSL service.
"We believe that's theft of service," said Sara Eder, a spokeswoman for AT&T; Broadband, which provides cable modem service.
AT&T; is not alone, though enforcement is difficult. SBC Communications recently rewrote its policies to forbid connection sharing outside the home. Time Warner Cable in New York has sent out a warning letter to about 10 subscribers who were sharing their connections.
Other providers say they don't mind if connections are shared, provided it doesn't diminish speeds for paying customers.
But it remains to be seen whether grassroots groups can maintain the momentum necessary to provide free coverage for entire cities or regions, or whether corporations will step in. Already, reports are circulating about plans by major tech companies to deploy a nationwide network.
Sales taking off
Sales of WiFi access cards and base stations are taking off, with sales expected to grow from $1.9 billion in 2001 to $5.2 billion in 2005 despite price drops, according to research firm Cahners In-Stat.
The sky is the limit for potential applications, said Shamp, who is preparing to launch the wireless cloud in Athens later this year.
"We're designing a sandbox," he said. "We want a place where people can experiment."
In San Francisco, Dan Augustine and Jason Luther started SF Wireless, which has 40 volunteers working on a project that not only provides free connectivity but has a goal of replacing wired infrastructure and providing content specific to their neighborhood.
Industry has had no choice but to respond.
Cell phone companies are hedging their bets by adding WiFi capabilities to products.
"There is a network that has emerged from the grassroots without a lot of planning," said Andrew Cole, senior vice president for wireless at the consulting firm Adventis. "It answers a highly marketable need. You should not underestimate it."
Copyright 2018 The Associated Press. All rights reserved. This material may not be published, broadcast, rewritten or redistributed. We strive to uphold our values for every story published.