CHASKA, MINN. — Justin Leonard is great when he's coming from behind on the final day of big tournaments. Given a big lead in a major, it was a much different story Sunday.
It was dreadful, and Leonard now must live with a collapse that cost him the PGA Championship, his second career major and a higher status among the world's elite golfers one he seemed destined to reach a few years ago.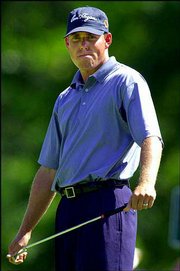 Leonard took a three-shot lead over playing partner Rich Beem into the final round at Hazeltine National and, given Leonard's reputation for final-day finishes, Beem had said candidly he didn't expect to catch him.
Four holes later, Beem did just that as Leonard bogeyed No. 1 and Beem birdied 3 and 4. Then, after Leonard hit into the water for a double bogey on No. 8 and had a bogey on 9, it was Leonard doing the chasing.
It wasn't very pretty to watch, either.
"It was disappointing," Leonard said.
Clearly unnerved at seeing a three-shot lead become a two-shot deficit within nine holes, a grim-faced Leonard never got his game or his confidence back.
"He didn't have his best stuff," Beem said. "After No. 8, I don't want to say he fell apart. He didn't. It just took a little wind out of his sails."
From No. 8 on, Leonard played five over, with three bogeys on the back nine. It was exactly the opposite of his third round Saturday, when he took charge with a run of three straight birdies from Nos. 13 through 16.
"At No. 16 I felt I still had a chance, but when (Beem) holed his putt and I missed mine, I pretty much conceded at that point," said Leonard, who trailed by six shots at the time.
By the end of his 77 his worst final round in any tournament this year he was chasing not the Wanamaker Trophy but third place. He didn't get that, either, dropping into a tie for fourth with Fred Funk.
After tying the Hazeltine National competitive-round record with a 66 on Friday and a 69 on Saturday, he said he needed "a great round" to win Sunday. He didn't even get a mediocre one.
"I pretty much knew when I left the course (Saturday) it would be a different day today," he said. "I knew I had to play well and play aggressively."
Copyright 2018 The Associated Press. All rights reserved. This material may not be published, broadcast, rewritten or redistributed. We strive to uphold our values for every story published.