Sparky Wilhelm wanted to stay close to the game he loves. Calvin Ledbetter wanted to save a little money.
What came of it was Diamond Cabinetry and Wood Products, 641 E. 22nd Street in Lawrence. It's a year-old business specializing in, among other things, making baseball bats from scratch.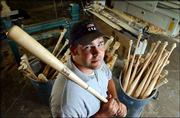 "It helps keep me around baseball," Wilhelm said. "That's the great thing."
Wilhelm was a utility infielder for the Kansas University baseball team from 1996-99. After a stint with an environmental company out of college, Wilhelm teamed with Ledbetter to combine their skills and passion into a Lawrence business success story.
"We have a full line of cabinetry," Ledbetter said. "We do miscellaneous wood projects, too. We'll do anything we have tooling for."
Ledbetter's son, Curtis, a former standout catcher for Lawrence High, now is playing for the University of Nebraska. Wood bats are a popular choice among colleges during their fall season, and Curtis was in need of some lumber to take with him to Lincoln, Neb.
"Rather than me buying them, I thought we would make them," Calvin Ledbetter said. "We then figured there was a good market out there for people like myself."
Now, their bats are being used by colleges and minor league teams across the nation, and even overseas in Japan.
"The bats have done better than we anticipated," Ledbetter said. "They're something that requires daily attention, now. It's almost become a separate business."
The business allows Wilhelm to keep in touch and assist current players, something he says, is just as rewarding as the paycheck.
"I love to see these players call back and say, 'Hey, I had a great game last night,'" Wilhelm said. "I'm glad they're buying them because it's great for business, but I'm also glad because they found a product that we produced that they liked."
Despite the unanticipated success of their bats, the men of Diamond Cabinetry and Wood Products still have a goal in mind and a plan on how to reach it.
"We try to provide local kids with bats at a discount," Ledbetter said. "We would love to see everybody in town using our bats."
Of course, Wilhelm will always have a big heart for his alma mater. Several players on the KU baseball team have taken a liking to his product, and Wilhelm couldn't be happier.
"That was the first team I went to," he said. "Not because I wanted to make some sales. I thought I made a good product, and if I wanted anyone to use it, I wanted them to. Anything to help the team."
With the KU baseball team undergoing a face lift in recent months, Wilhelm is hoping for the best from a program he once contributed to. He hit .273 with 15 stolen bases in four seasons under former coach Bobby Randall.
"I don't know much about the new coach," Wilhelm said. "It sounds like he's got a lot of fire and a lot of anticipation for what's coming up. That's great. I hope they do well."
Copyright 2018 The Lawrence Journal-World. All rights reserved. This material may not be published, broadcast, rewritten or redistributed. We strive to uphold our values for every story published.