New York — Negotiations between the union representing a group of Rockettes and the owners of Radio City Music Hall have broken down, with the owners kicking out the dancers' claim to job guarantees.
Veteran Rockette performers in New York City like those in other places must try out in open auditions for parts as leg-kicking dancers, under new terms that management imposed.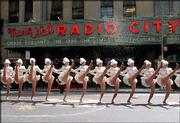 Cablevision Systems Corp., owners of Radio City Entertainment, had set a deadline of Tuesday night to resolve a dispute with 41 Rockettes who work in New York and are members of the American Guild of Variety Artists.
The dancers, whose contract expired in February, wanted a job security clause that would guarantee they be rehired for new shows.
Radio City plans to have open auditions for the New York performances, as it does for such shows as the Christmas spectaculars in places like Chicago and Atlanta. About 150 Rockettes work outside the city and routinely try out for their parts.
Rockettes who are hired in open auditions will receive pay and benefit boosts, Radio City said.
Open auditions for this year's Radio City Christmas Spectacular, the Rockettes' signature show, were scheduled for Wednesday.
Copyright 2018 The Associated Press. All rights reserved. This material may not be published, broadcast, rewritten or redistributed. We strive to uphold our values for every story published.