John Castillo, assistant store manager with Cabela's, said the outdoor equipment and clothing retailer had a simple goal for its new store about 30 minutes east of Lawrence near the Kansas Speedway.
"We want people to walk in and say, 'Wow," Castillo said. "We want it to be a place where people can come and buy their outdoor gear, but more than that, we want it to really be an exhibit."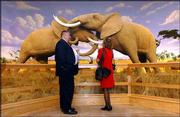 The store, located near the intersection of interstates 435 and 70 in Kansas City, Kan., opens today, and the company is expecting big crowds. Castillo said company officials estimated the store would draw more than 4 million people a year and ultimately would become the state's top tourist attraction.
It won't do it just with its merchandise which includes hunting supplies, fishing equipment, camping gear, outdoor clothing and a full-service boat dealership. The store has a host of nonretail features that store officials believe will be a major draw. They include:
More than 900 stuffed animals, including two deer that are current world record holders.
A 55,000-gallon walk-through aquarium stocked with fish native to the area.
A two story, 36-foot tall mountain replica with running waterfalls, streams and a trout pond.
An African safari display that features stuffed elephants, lions, leopards and crocodile.
An indoor archery range and an arcade-style shooting gallery.
If you goCabela's opens its new Kansas City, Kan., store at 8 a.m. today. The store, located at the intersection of interstates 435 and 70, will be open from 8 a.m. to 9 p.m. Monday through Saturday and 10 a.m. to 6 p.m. Sunday.¢ www.cabelas.com
A 30-foot tall wildlife sculpture, which store officials said was the largest bronze outdoor sculpture in the world.
A 180-seat restaurant that will include unique menu items such as elk, venison, buffalo and quail.
The store is the eighth the company has opened across the country. The company, which does the majority of its sales through its catalog business, said its store in Sydney, Neb., was that state's top tourist attraction. Its Minnesota store, about an hour outside the Twin Cities metro area, is second only to the Mall of America in that state.
Steve Kelly, director of business development with the Kansas Department of Commerce and Housing, said state tourism officials believed the store certainly had the chance to be the type of destination attraction the state has been seeking.
"This has some advantages even over the speedway," Kelly said. "Instead of having a few very large events a year, this store has the ability to draw people every day. And with some of the larger type of items they sell, we think it will give people the opportunity to not only spend a lot of time here but a lot of money."
Castillo said previous research indicated the Kansas City store would draw people from the surrounding Midwest states.
"Research at our other stores shows that 50 percent of our customers travel 100 miles or more, one way, to come to the store," Castillo said.
Castillo said company officials had chosen to locate a store in Kansas City, in part, because of the Kansas Speedway. The demographics of race fans and outdoor enthusiasts are similar, he said, and the company has experienced strong catalog sales in the Kansas City area.
Construction work on the store began about a year ago. Once fully staffed, the store is expected to employ about 500 people.
The opening is the first for the "Tourism District," which is adjacent to the speedway. Work also is under way on a Nebraska Furniture Mart, a 600,000-square-foot furniture center, and a 280-room resort and indoor water park.
Overall, the 400-acre development adjacent to the track is expected to attract 7 million to 9 million shoppers and generate $440 million in annual sales.
Copyright 2018 The Lawrence Journal-World. All rights reserved. This material may not be published, broadcast, rewritten or redistributed. We strive to uphold our values for every story published.