The days of flagging down a city bus from anywhere along its route may be numbered.
New bus shelters popping up around the city are the first step toward setting up a more structured system of stops for the system, whose ridership continues to increase.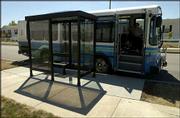 "Riders will be able to (hail a bus) in places where we do not have the signage or the shelters," said Karin Rexroad, public transit administrator. "Eventually, we will move away from that. But it's going to take us several years to build up infrastructure, signs and shelters."
Rexroad said riders on the T have been expressing gratitude for the 15 new glass-and-aluminum shelters the city has been installing along curbs and on street corners. That has been especially true, she said, for elderly residents at Babcock Place and Brandon Woods Retirement Community who didn't feel safe waiting for a bus without them.
"I think it will be attractive to ridership," she said.
The 4-by-8-foot shelters are built on concrete slabs and are designed to shelter riders from the weather and direct them to the safest spot to wait for a bus. The locations were chosen based on a survey that asked bus drivers where most passengers were boarding, Rexroad said.
The shelters, which cost $1,427 each, began going up a few weeks ago.
No Lawrence funds have been spent to pay for the shelters, Rexroad said. The city received federal funds, a percentage of which was matched by the state, to put up a total of 48 shelters. Transit officials will gauge ridership trends and conduct more driver surveys to determine where to place additional shelters.
Although most of the shelters were empty Wednesday afternoon, ridership numbers are on the rise. City buses on fixed routes transported an average of 825 riders a day in July up from 770 in June, 715 in May and 690 in April.
"In August, we are starting to see several days over 1,000 people per day on the fixed routes," Rexroad said. "That's exciting."
¢ 15 locations to offer shelter to riders waiting for the THere's where you'll find 15 new shelters to stay out of the weather while waiting for city buses.Brandon Woods Retirement Community, 15th Street and Inverness DriveHaskell Indian Nations University, Indian and Barker avenuesBabcock Place, 17th and Massachusetts streetsCheckers, 23rd and Louisiana streetsDillons, Sixth Street and Lawrence AvenueVirginia Inn, Sixth Street and Schwarz RoadLawrence Memorial Hospital, near the front entrance on Arkansas StreetBehind JC Penney, 33rd Street and Four Wheel DriveSouth of Kohl's on 33rd StreetNear Taco John's, 23rd Street and Ousdahl Road16th Street and Haskell Avenue, near entrance to Edgewood HomesAcross the street from NCS Pearson on Greenway DriveShelters will go up in these locations in the coming weeks:Ninth Street, between Massachusetts and New Hampshire streetsCommunity Mercantile, Ninth and Iowa streetsSouthwest corner of 23rd and Harper streets
Copyright 2018 The Lawrence Journal-World. All rights reserved. This material may not be published, broadcast, rewritten or redistributed. We strive to uphold our values for every story published.