Four football players from sometimes-smoggy Southern California are hoping to breathe some fresh air into Kansas University's defense this season.
Sid Bachmann, Reggie Curry, Cory Kipp and Roy Teng are vying for immediate playing time on the Jayhawks' defensive line in their first seasons out of junior college.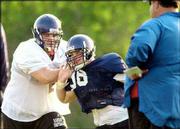 All four, in fact, bring impressive credentials from California CC's Palomar, Moorpark, Riverside and East Los Angeles respectively.
"I think it's pretty neat," Kipp, a 6-foot-5, 255-pound end from Riverside Community College, said of the four Golden State juniors enrolling at KU at the same time.
"It is an honor to be in the Big 12."
Kipp, Teng and Curry spent the summer working out together in Lawrence. Bachmann, meanwhile, was a late addition, arriving just a week ago after earning his associate degree at Palomar in San Marcos, Calif.
"I think it's a good thing to get different guys from different areas in the country," said Bachmann, a 6-1, 267-pound tackle, who chose KU over San Diego State, Nevada, Portland State and Northern Arizona. "If we can bring Southern California to KU, I think it's a good thing."
The San Diego Kearny High grad never doubted he'd be fully eligible and on board.
"The summer wasn't running out," said Bachmann, who attended Utah State one year before heading to junior college. "I was on top of my academics. I knew what I had to do and got it done.
"Since I've been here I've found it's a great town, great campus, great football team."
Kipp also attended a major college his first year out of Riverside North High School. He red-shirted one season at Arizona before heading to Riverside CC where he had 49 career sacks, twice earning all-conference honors.
"Arizona ... to tell you the truth, that was a big wake-up call coming out of high school," said Kipp, who chose KU over Missouri, Oregon, USC, UCLA and others. "There were so many great players. It was a learning experience for me. After playing junior college I saw there was no difference between 1-A and junior college. It's the same game speed, strength, everything."
Teng, a 6-2, 292-pound noseguard from East Los Angeles CC, chose Kansas over "a lot of smaller Div. I and D-IIs. "I wanted to go where I'd be appreciated. KU believed in me."
It seems a lot of schools backed off recruiting Teng, because he was mistakenly listed as 6-foot on most recruiting scouting lists.
"My height was a big problem. Playing on the D-line, they want taller players and bigger players," said Teng, who was an all-conference pick at East L.A. and two-time all conference pick at Gardena High School.
So how tall is he really? "I'm almost 6-1," he said with a laugh.
The 6-3, 245-pound Curry, who will play end at KU, is a converted running back.
He played in the backfield as a freshman and two games his sophomore season before being converted to defense where he was credited with nine quarterback sacks, three forced fumbles and two fumble recoveries at Moorpark.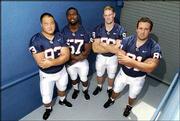 "They wanted to keep me at running back and have me in the rotation, but I had more of a position on the defensive line," said Curry, who had 85 tackles his senior year at Rio Mesa High in Oxnard, Calif. "I don't miss carrying the ball at all. I love playing defensive end."
He chose KU over UNLV, Nevada Reno, New Mexico and Northern Arizona.
"At the end it boiled down to Northern Arizona and KU," Curry said. "I wanted to come here and do what I can to help this team win. So far, things have been going well. Our defensive coaches are patient with us, showing us what we need to do."
And of the foursome from California he said: "We're new, everybody is new. Everybody is excited with a new coaching staff. It's all brand new."
First-year coach Mark Mangino is optimistic his newcomers can help.
"We went out and found some help at the defensive tackle and defensive end positions," he said. "Now those young men have to prove they can play and play right away, but based on what we've seen, we think we're going to get some early help up front. They need to be in the mix. They need to be in the two-deep," he added of Kipp and Curry. "They need to be out there playing. That's why we recruited them. (Kipp) is a very intense, rugged guy, just a hard-nosed player."
Will they start?
"Only time will tell," Curry said. "You've got to work hard and see what happens."
Copyright 2018 The Lawrence Journal-World. All rights reserved. This material may not be published, broadcast, rewritten or redistributed. We strive to uphold our values for every story published.