One thing the NCAA doesn't warn student-athletes petitioning for a rare sixth year of eligibility about is the endless string of age-related jokes to which the successful ones are subjected.
"I've heard 'em all," said Harrison Hill, a 6-foot, 200-pound native of Wichita who is entering his sixth season as a Kansas University football wide receiver. "I've heard I'm older than the moon and stars. My favorite one I saw on a Web site last night. It said somebody saw me in a picture of the last supper."
Suffice it to say Hill has learned to roll with the punchlines.
And while he may be the first six-year starter in KU history and no doubt unusual, if not unique, in that regard nationally "Over the" Hill wants it known that, while he might be the most veteran Jayhawk, he's not the oldest.
"Jake Letourneau is older than me. Jake and Matt Jordan are both older," Hill said. "I researched it."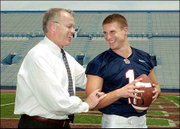 Sure enough, Hill's a full week younger than Letourneau and more than six months junior to Jordan.
Still, Hill has those fifth-year senior pups whipped in experience.
He'll head into his second senior season with 108 career receptions for 1,535 yards and seven touchdowns. A starter in 34 of his 36 career games, Hill needs 26 catches and 732 yards to become the school record-holder in both categories.
"I think it'd be awesome if Harrison got it," said fellow KU wideout Byron Gasaway. "He's been here a long time and done a lot for the program. I think it'd be a nice tribute for him."
Hill's Kansas career has been a tribute to perseverance.
He broke his left ankle in the second game of his first season, 1997, battled chronic dehydration throughout his career and suffered a fractured scapula bone in his left shoulder in the second game of last season.
Last year's injury forced Hill to petition the NCAA for a rare sixth year of eligibility.
"I've been around a long time, and I've been through a lot," said Hill, who started on the KU baseball team back in 1999 before giving up the sport to concentrate on football. "There have been a lot of ups and downs, but I've matured and gotten through it. I think everything happens for a reason."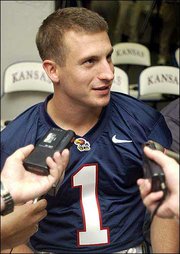 Last year might have been the greatest test of that theory.
"My freshman year, I was disappointed at first that I was starting and then I got hurt, but, looking back on it, it was the best thing for me," Hill said. "Last year was hard, especially since the team was struggling and I wanted to help. But then coach (Mark) Mangino was hired and everything's new new coaches, new everything and I'm excited. There's definitely a sense of urgency, but I'm looking forward to it."
Thus, it is without a hint of injury or an ounce of regret that Hill heads into what really will be his final season at Kansas.
"I feel healthy," he said. "I feel good a bit older, but good."
During Friday's KU media day, Hill was on the field for photos as, for the sixth straight year, a Kansas head coach addressed the media and deemed the wide receiving corps as one of KU's greatest strengths.
Told of Mangino's comments, Hill shrugged.
"I've heard that six years now, and we haven't lived up to that at all," Hill said. "Now, that's not all the wide receivers' fault. You need to have the line, the quarterback, the schemes. There have been years where I thought we were one of the best groups in the country and we didn't play like it. But there are a lot of guys with a lot of experience. We've all got to want to play better. I know I do."
Copyright 2018 The Lawrence Journal-World. All rights reserved. This material may not be published, broadcast, rewritten or redistributed. We strive to uphold our values for every story published.