If you're headed for the Kansas University Medical Center, you better bring a hard-hat. There's a lot of construction going on, and there's more on the way.
"For us to keep pace with the demands of modern science, we have to expand and renovate our facilities, many of which were built in the 1950s," said Ed Phillips, the medical center's vice chancellor for administration.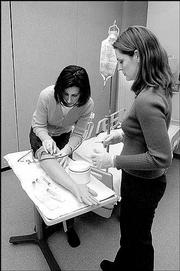 "At this point, many of our facilities are full," he said. "Without additional infrastructure, we cannot grow."
This quest for growth coincides with the Life Sciences Initiative, a precedent-setting campaign to make Kansas City a nationally recognized center for biomedical research and development.
"KU Med is one of the principle pieces in the Life Sciences Initiative," Phillips said.
Launched in September 2000 by the Kansas City Area Development Council and the Kansas City Civic Council, the Initiative calls for:
l State-of-the-art research facilities staffed by established scientists and top graduate students.
l Universities and hospitals working in partnership to discover new treatments.
l World-class science curriculums on the elementary, secondary and university level.
Stowers Institute
Much of the Initiative is being rewritten by the Stowers Institute for Medical Research.
Jim and Virginia Stowers, both cancer survivors, have endowed $515 million and pledged their $1.3 billion estate to the Stowers Institute.
State-of-the art research facilities staffed by established scientists and top graduate students is part of the Life Sciences Initiative campaign at Kansas University Medical Center.
The Stowers Institute's 600,000 square-foot, $200 million complex opened in November 2000.
Jim Stowers founded the Twentieth Century Investments mutual fund in his Kansas City, Mo., apartment in 1958. Twentieth Century Investments later became American Century, which is now the nation's fifth largest direct-marketed mutual fund.
In addition to Stowers Institute's efforts, the Initiative calls for KU, the Med Center, the University of Missouri at Kansas City and Kansas City-area hospitals working together to make scientific discoveries, leading to new medical treatments.
"Drawing on each other's strengths and resources allows each institution to avoid duplication of effort and spending, and enables each organization to focus on what it does best," said William B. Neaves, president and CEO at Stowers Institute.
For the Med Center, that means building a state-of-the-art biomedical research facility that, for starters, will focus on genetics, brain research and proteomics, the study of proteins and the ways they can be used to fight diseases.
The new, 200,000-square-foot facility, still awaiting an official name, is being financed with $27 million from the Hall Family Foundation as well as support from the state of Kansas and KU.
"We hope to begin design work in the fall of 2002 and begin construction as soon after that as possible," Phillips said.
Brain Imaging Center
Also in the fall, Med Center officials expect to complete work on the new, 11,500-square-foot Hoglund Brain Imaging Center.
The center, made possible by a $4 million gift from KU alumni Forrest and Sally Roney Hoglund, Dallas, will include one of only three MEG (magnetoencephalography) devices in the nation capable of creating functional images of a developing brain in the womb. The center will also include specially equipped MRIs designed to analyze brain functions.
"This center will solidify our position as a national leader in the research of Parkinson's disease, headache, epilepsy and stroke," said Dr. Michael Welch, vice chancellor for research at the Med Center. "It will greatly enhance our efforts in fighting Alzheimer's. It will even allow us to assess the effects of smoking, alcohol and stress on a developing fetus in the womb. We'll know more about what causes learning development disorders such as autism. From such steps, medical miracles happen."
Other ongoing construction projects include a $4 million renovation of the Kidney Institute's facilities on the fifth and sixth floors of Wahl Hall, and a $700,000 renovation of the cardiovascular research program's laboratories.
Copyright 2018 The Lawrence Journal-World. All rights reserved. This material may not be published, broadcast, rewritten or redistributed. We strive to uphold our values for every story published.