Veterinarians were in high demand Friday as horse owners scrambled to get their animals vaccinated against the West Nile Virus.
The day after Kansas health officials confirmed the state's first case of the mosquito-borne virus, area vets' phones were ringing off the hook.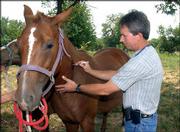 Eudora Animal Hospital was no exception, despite having already administered 1,200 vaccinations since early in the year, veterinarian George Schreiner said.
"Most of our clients had already vaccinated their horses," he said. "We saw it was coming and we were prepared."
But news Thursday that a Cowley County horse had died after being infected with the virus sparked a new wave of calls.
The arrival of West Nile had been expected by Kansas health officials because cases already had been confirmed in neighboring states of Missouri, Nebraska and Oklahoma.
Birds, especially crows and blue jays, are very susceptible to the virus. Birds also are thought to be primarily responsible for carrying the disease from one area to another along their migratory paths.
Sightings of dead birds can be an indicator of the disease.
Danger to humans
Humans also can become sick with flu-like symptoms if infected, and the disease is fatal in less than 1 percent of all human cases.
People over the age of 50 and those with weakened immune systems are most susceptible to serious illness from West Nile Virus. Symptoms include headache, swollen glands, muscle aches and rash. Humans can get the virus from only one species of mosquito the Culex.
But Dr. Bonnie Rush, professor of equine internal medicine at Kansas State University, said West Nile was one of the more severe diseases that can affect horses, with nearly a 30 percent mortality rate.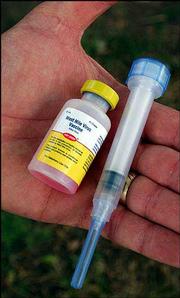 The greatest risk of infection is during late summer and early fall as the mosquito population increases. That would mean horses vaccinated now would not be fully protected against the virus until the end of the mosquito season, but that shouldn't deter horse owners from vaccinating, health officials said.
Early and often
Jon Haggard, another veterinarian at Eudora Animal Hospital, said many area horse owners were following that advice. He spent most of Friday on the road vaccinating horses.
The protocol calls for an initial injection, followed by a booster after three to six weeks and additional boosters every six months.
"You're talking about several weeks before the horse actually builds up immunity," Haggard said.
Tara Craig, a Baldwin Police officer who owns two horses, was among those who had her animals vaccinated last spring. The early publicity about West Nile in nearby states convinced her to have it done.
"They got their first shots in April and the second in May," she said. "It was something everyone was talking about."
The cost of each vaccination ranges from $20 to as much as $45, veterinarians said.
KU predicts spread
Last spring Townsend Peterson, associate professor of ecology and evolutionary biology and curator of birds at KU's Natural History Museum, prepared a study to predict where the virus would spread. So far the virus is following initial projections.
"We're seeing it reach into the upper Midwest rather than into the Southeast," Peterson said. "I'm quite convinced that it is following the migratory routes of birds."
That means the virus will continue to spread north and reach into Canada, Peterson said. It will then have to expand into Mexico before it begins to move across the Rocky Mountains and into the far western United States, he said.
"There is not a lot of east-west (bird) migration," Peterson said.
Peterson said he expected there would be more confirmed cases of West Nile in Kansas. And he doesn't rule out cases being discovered in Douglas County.
"This is something that we are going to have to learn to live with," Peterson said.
KU is testing dead birds for the disease. Anyone who is concerned about a dead bird may contact Peterson by e-mail at town@ku.edu. Several birds have been tested in recent days and not all results are back. So far there are no confirmed cases, he said.
Dead birds can also be reported by calling toll-free (866) 452-7810.
The Washington Post
How do people get West Nile Virus?
From the bite of an infected mosquito. Mosquitoes become infected when they feed on infected birds. West Nile Virus is not transmitted from person to person.
Can you get West Nile Virus directly from birds?
There is no evidence people can get it from handling infected birds, but one should not handle dead animals without gloves. Can you get West Nile Virus from other insects?
Infected mosquitoes are the primary source. Infected ticks have been found in Asia and Africa, but their role in transmitting the virus is uncertain.
What are the virus' symptoms?
The incubation period is usually five to 15 days. Symptoms include fever, headache and body aches, often with skin rashes and swollen lymph glands. More severe infection may be marked by headache, high fever, neck stiffness, stupor, disorientation, tremors, muscle weakness, coma, convulsions, paralysis and, rarely, death.
How is West Nile Virus treated?
There is no specific treatment. In severe cases, hospitalization is required.
How can I reduce my risk of infection?
Avoid mosquito bites by staying indoors at dawn, dusk and early evening. Wear long-sleeved shirts and long pants outdoors. Sparingly apply insect repellent containing 35 percent DEET to exposed skin. Children should use insecticide with a 10 percent DEET concentration.
Where can I learn more?
The Centers for Disease Control and Prevention offers information at www.cdc.gov, or toll-free by phone: English, 888-246-2675; Spanish, 888-246-2857; and hearing-impaired, 866-874-2646.Note: Vitamin B and ultrasonic devices do not prevent mosquito bites.
Copyright 2018 The Lawrence Journal-World. All rights reserved. This material may not be published, broadcast, rewritten or redistributed. We strive to uphold our values for every story published.