The state's first confirmed case of West Nile virus came as no surprise to Oliver Komar.
The Kansas University researcher knew it was just a matter of time.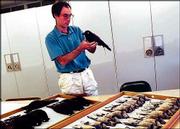 "Once it's here, it will likely be a continuing problem for a long time to come," said Komar, graduate research fellow in the division of ornithology at KU's Natural History Museum.
Even before a horse in south-central Kansas was confirmed Thursday to have died with the mosquito-borne virus, Komar and state health officials knew West Nile would soon find its way to the state.
"The fact that the virus has finally appeared in Kansas really comes as no surprise, as it's been found in states bordering Kansas, including Nebraska, Missouri and Oklahoma," said Dr. Gail Hansen, state veterinarian with the Kansas Department of Health and Environment.
The infected horse, in Cowley County, became ill Sunday and died Wednesday, she said. The disease was confirmed when tests were completed at Kansas State University. Final confirmation will come from the National Veterinary Services Lab in Ames, Iowa.
It was not immediately known if other animals were infected. The disease cannot be transmitted from animal to animal.
Mosquitoes and birds
Instead, it is transmitted when mosquitoes bite an infected bird and then bite another animal or human.
Reduce risk of West Nile Virus infectionKansans can take these precautions to reduce their chances of being infected with the West Nile Virus:Use mosquito repellent containing DEET.Avoid being outdoors between dusk and dawn, when mosquitoes are most active.Wear long-sleeved shirts and long pants when outdoors.Eliminate standing water in yards and elsewhere where mosquitoes might breed.To report dead birds, e-mail Town Peterson, curator of birds at KU Natural History Museum at town@ku.edu, or call Kansas State University's West Nile Virus hot line at (866) 452-7810.
"We think migrating birds have helped it jump from place to place," Komar said.
Many types of birds are susceptible to the disease, he said. Birds most likely to die from it are crows and blue jays. Sightings of a number of dead birds could be a sign of the disease, Komar said.
"There have been dead birds tested in eastern Kansas, but so far the virus has not been detected," Komar said. "Just seeing a dead bird doesn't mean the virus is here."
The disease is fatal in less than 1 percent of all human cases. Symptoms include headache, swollen glands, muscle aches and rash. People over the age of 50 or those with weakened immune systems are most susceptible to serious illness from West Nile virus.
A state group that has monitored the virus for the past two years will increase observation in Cowley County for four or five days, Tom Janousek, West Nile virus coordinator for the KDHE, said at a news conference Thursday in Winfield.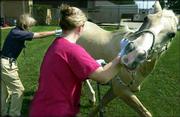 More traps will be put up to trap mosquitoes to be tested for the virus. Chickens also will be monitored because they typically don't die from the West Nile virus but build up antibodies that can be spotted in tests.
Increased surveillance
In Missouri, 13 horses that died from encephalitis a swelling of the brain have tested positive for West Nile at the University of Missouri's Veterinary Medical Diagnostic Laboratory in Columbia, assistant lab director Gayle Johnson said.
Kansas' large cattle herds appeared to be safe from the illness, Hansen said. Research has shown that West Nile virus is not deadly in other domesticated animals, wildlife or house pets.
In addition, she said, the illness does not pass from bird to bird.
Kansas officials increased surveillance for West Nile Virus this year, including testing bird populations, Hansen said. She added that the state's drought conditions may have played some role in slowing West Nile's spread.
Hansen said the KDHE sent information to physicians, veterinarians and public health agencies about detecting West Nile Virus and treatment. Efforts are also being coordinated with the Kansas Animal Health Department.
"The response is ultimately going to be a very local incident," Hansen said.
Some cities where West Nile has been detected have conducted massive pesticide spraying programs. There are no plans for such an abatement program in Lawrence if the virus is detected here, city officials said.
Comprehensive approach
"It's not been brought up at all," said Fred DeVictor, director of the Lawrence Parks and Recreation Department.
In the past, the parks department has been responsible for spraying parks. With the exception of spraying for ticks in Dad Perry Park, no spraying has been done for several years, DeVictor said.
Instead of an all-out spraying assault, state officials, researchers and educators are promoting a comprehensive approach to managing mosquito populations, KDHE said.
"Spraying is one small part of a total effort to control insect populations, but it is not very efficient when used as the only method, and spraying can have adverse effects if not done properly," Hansen said.
Health officials advise getting rid of standing water, which is a breeding ground for mosquitoes. There also are small briquettes containing chemicals that can be used to kill mosquito larvae in standing water, said Richard Ziesenis, director of environmental health at the Douglas County Health Department.
There are several brands of the briquettes, such as Altosid and Pyrenone, which are available at garden supply and some general retail stores. When placed in standing water, the products attack the mosquito problem by stopping them where they're hatched.
Rapid spread
Humans can protect themselves from West Nile virus by avoiding outside activities near dawn or dusk when the mosquitoes are likely to be active. Use of an insect repellent can also be effective.
Komar said KU researchers would continue testing dead birds for signs of the disease, an activity they started in October in cooperation with KDHE and the surveillance project at K-State. Efforts also are being made to design a model for predicting how fast the virus spreads and where it might be found next, he said.
The first virus case was reported in 1999 in New York, and has since spread rapidly south and west.
It has been detected in more than 30 states and Washington, D.C. The Centers for Disease Control and Prevention said 112 people had been infected as of Thursday. The median age of those infected is 55 younger than in past years, CDC officials said.
Most of the cases have occurred in Louisiana, where five people have died from the virus.
Copyright 2018 The Lawrence Journal-World. All rights reserved. This material may not be published, broadcast, rewritten or redistributed. We strive to uphold our values for every story published.