As she was embraced by well-wishers at a downtown deli, Sandy Praeger of Lawrence watched election returns Tuesday that showed her easily winning the Republican Party nomination for insurance commissioner.
Praeger, a state senator, will face Democrat Jim Garner of Coffeyville in the November general election. Garner, the House minority leader, faced no primary opposition.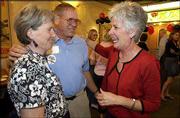 Praeger, running a well-financed campaign and backed by Republican establishment figures throughout the state, handily defeated Bryan Riley of Wichita and David Powell of El Dorado.
With 74 percent of precincts reporting, Praeger was leading 59 percent to Riley's 24 percent and 17 percent for Powell.
In the past seven months, Praeger spent more than $128,000 on her campaign, while Riley spent $10,700 and Powell $1,900. Praeger was the only candidate in the race to run television ads.
Riley, who sells long-term care insurance, was critical of Praeger's campaign finances because she had taken donations from executives with Blue Cross and Blue Shield of Kansas while a potential merger involving the company is being considered by the Kansas Supreme Court. The court could kick the issue back to the next insurance commissioner.
Praeger, a 12-year legislative veteran, also solicited and accepted thousands of dollars in contributions from insurance companies.
The current insurance commissioner, Kathleen Sebelius, has refused to accept contributions from inside the industry. Sebelius is now the Democratic nominee for governor. Garner, an attorney, said he would continue Sebelius' practice of not accepting contributions from insurance interests.
But Riley said despite his misgivings about Praeger's campaign funds, he would support her. "Philosophically, I am probably closer to her than I am to Mr. Garner," said Riley, who ran unsuccessfully in 1998 for insurance commissioner.
Praeger brushed off criticism about her campaign finances, saying it would be unfair to exclude contributions from insurance companies while accepting contributions from other interests that have business before the commission.
Praeger said she wanted to make insurance more accessible and affordable by bringing more companies into Kansas and making them competitive. Praeger is chairwoman of the Senate committee that deals with insurance matters and serves as Senate vice president.
"I'm going with the same message during the general election campaign: Balance and competition," Praeger said.
Praeger said she will fight for consumer protections but also wants to make Kansas a business-friendly place for insurers to provide coverage.
She said some insurance company officials had told her that there are bureaucratic hurdles in Kansas that do not exist in other states.
Praeger is a former Lawrence city commissioner and mayor, and has long been active in Lawrence-area politics.
Copyright 2018 The Lawrence Journal-World. All rights reserved. This material may not be published, broadcast, rewritten or redistributed. We strive to uphold our values for every story published.