Kansas University officials are cutting out the middle man when it comes to buying office supplies. His name is Keith Kellum.
KU this fall will begin requiring departments to order their own supplies, eliminating its Office Supply Store and Kellum's position.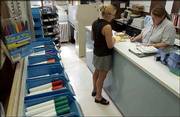 Another employee, manager Kathy Jansen, will be transferred to KU's purchasing department after working in the store 28 years.
"This is an efficient use of our resources," said Diane Goddard, assistant vice provost and comptroller. "Now that budgets are tight, every dollar makes a difference."
Goddard said the change would save the university about $230,000 annually. But Jansen questioned that amount.
Since 1972, the Office Supply Store, located in the basement of Strong Hall, has taken orders from university departments, received supplies and distributed them to the departments. The store had to mark up the price of each item 16 percent to cover its operating costs.
KU spends about $700,000 on office supplies annually, not including postage. The store will be phased out between Aug. 19 and the end of September.
Goddard said developments in e-commerce now allowed departments to deal with the contractor, Boise Cascade Office Products Corp., and save about 35 percent. Goddard said deliveries would still be made daily.
The arrangement required permission from the state Division of Purchases.
Jansen, who also serves as president of KU's Classified Senate, said the arrangement for less expensive prices could have been made with the Office Supply Store, which would have meant less work for department employees.
"The work we do is being dispersed to other departments," she said. "I have a concern, because so many departments are already overworked through budget cuts and lost employees. This is another task they'll have to deal with."
The office-supply change is the latest in a string of cost-cutting measures KU has taken to deal with a $7.1 million shortfall in state funding.
But Goddard said the change made sense, even without a tight budget year. KU officials have been discussing the way they purchase office supplies for two years, she said, and performing cost-savings studies for six months.
In addition to the two classified positions eliminated, the change will free up warehouse space and two vehicles for use elsewhere in the university. Kellum declined to comment for the story.
Goddard said KU employees still would have an option of buying supplies from local stores in emergencies.
"We're always trying to figure out how to do more with less," Goddard said.
Copyright 2018 The Lawrence Journal-World. All rights reserved. This material may not be published, broadcast, rewritten or redistributed. We strive to uphold our values for every story published.