NABLUS, West Bank — The Israeli army blew up two buildings with explosives labs and arrested at least 50 Palestinians in house-to-house searches Friday as troops took control of Nablus, a city Israel called "the main factory of suicide bombings."
The army clashed with Palestinians in several places in the West Bank and the Gaza Strip. Overall, five Palestinians were killed, including an elderly woman, and seven houses and buildings were destroyed.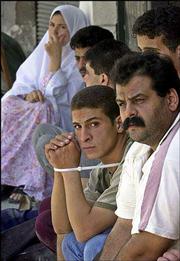 The military also said it planned to expel two relatives of suspected Palestinian militants from their homes in the West Bank to the Gaza Strip a transfer Israel hopes will deter potential attackers.
The stepped-up Israeli military actions follow a series of Palestinian attacks against Israel, including a bombing Wednesday at Jerusalem's Hebrew University that killed five Americans and two Israelis.
"There's been a train of Palestinian terrorism that's been hitting Israel over the past week to 10 days, and what we've been able to discern is that its hub is in Nablus," said Israeli government spokesman Dore Gold. Nablus has replaced nearby Jenin "as the main factory of suicide bombings against Israel."
Nablus, the largest city in the West Bank with about 200,000 people, has been under an Israeli military curfew for most of the past six weeks, along with other Palestinian population centers.
Residents of Nablus defied the curfew from Monday to Wednesday, and life regained a semblance of normalcy as Palestinians returned to the streets and Israeli forces remained in armored vehicles parked on the outskirts of the city.
However, the military reinforced the curfew Thursday, and a convoy of more than 100 tanks and armored personnel carriers rolled into Nablus around 2 a.m. Friday. Shortly afterward, soldiers began working their way on foot through the narrow alleyways of the Old City. In exchanges of fire, two Palestinian gunmen were killed, witnesses said.
May Fataier, 16, who was shot in the leg, said that shortly after the Israeli armored vehicles entered Nablus, there was "shooting in all directions.
"I heard someone screaming and went out of the house and a soldier opened fire at me," she said from a hospital.
The Palestinian suspects were handcuffed and blindfolded before being taken from Nablus on army buses. The Israeli military said it found and blew up two buildings in the Old City that were being used as explosives laboratories.
Palestinian leader Yasser Arafat called the Israeli operation "a new massacre" and appealed for U.N. intervention. "I need an answer from the whole United Nations: Is this acceptable?" he said at his headquarters in Ramallah.
Outside Nablus, in the village of Salem, Israeli soldiers surrounded the house of a Hamas activist, 28-year-old Amjad Jubur, and shot him dead, both sides said.
Israel has revived its policy of demolishing houses that belong to the families of Palestinians who attack Israel, and two homes were torn down Friday in the West Bank.
In Hebron, Israeli forces blew up a three-story house belonging to the family of a Palestinian who carried out an attack last November in Jerusalem, the military said. In Tulkarem, soldiers destroyed the home of a Hamas gunman who opened fire in the Israeli coastal city of Netanya in March 2001, killing three.
Copyright 2018 The Associated Press. All rights reserved. This material may not be published, broadcast, rewritten or redistributed. We strive to uphold our values for every story published.